We created Pandora to put the Music Genome Project directly in your hands
It's a new kind of radio –
stations that play only music you like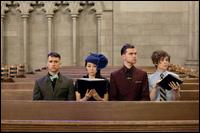 People who also like this
Taking their name from the 1998 Chinese film
Xiu Xiu: The Sent Down Girl
, Xiu Xiu formed in San Jose, California with Cory McCullough, Yvonne Chen (publisher of the indie zine Zum), Lauren Andrews, and Jamie Stewart. Before forming Xiu Xiu, McCullough and Stewart played in the band
Ten in the Swear Jar
. Prior to the 2002 release of their first full-length album,
Knife Play
(released on vinyl through Absolutely Kosher and on disc through 5RC/Kill Rock Stars), the band made appearances on numerous compilations. Shortly after
Knife Play
's release, Springman released a 10" collaboration between Xiu Xiu and
Deerhoof
. Vocalist Stewart has earned comparisons to
the Cure
's Robert Smith, while the band itself draws from post-punk, synth pop, and avant-garde music as well as directors and authors including
David Lynch
, Todd Solondz, Elfriede Jelinek, V.S. Naipaul, and Yukio Mishima. In 2002, the band issued the
Chapel of the Chimes
EP. The following year,
A Promise
and the limited-edition, mostly acoustic F*g Patrol EP arrived, and early 2004 saw the release of one of their most accessible albums,
Fabulous Muscles
.
Xiu Xiu kept busy in 2005 with the full-length
La Forêt
and a split single with
Devendra Banhart
. The group's fifth album,
The Air Force
, which was produced by Greg Saunier, arrived in fall 2006; an EP of covers,
Tu Mi Piaci
, was also released that year. Issued in 2008,
Women as Lovers
was some of Xiu Xiu's catchiest and most abrasive work, and featured
Michael Gira
on a cover of "Under Pressure." Caralee McElroy, who had joined the group for
The Air Force
, left Xiu Xiu in 2009 and became a member of
Cold Cave
; she was replaced by Angela Seo, who worked with Stewart and Saunier on 2010's more overtly poppy and electronic
Dear God, I Hate Myself
. Two years later, the band commemorated its tenth anniversary with
Always
, which tackled war atrocities ("Gul Muldin"), the plight of Chinese female migrant workers ("Factory Girls"), and the right to choose ("I Luv Abortion"), and was dedicated to the band's devoted fans. Sal Mineo, a collaboration with
Oxbow
's Eugene S. Robinson, released its self-titled debut album in April 2013 on Important Records. While touring with
Swans
, Stewart was inspired to cover the songs of
Nina Simone
; Nina, which featured the talents of jazz and avant-garde players
Tim Berne
,
Tony Malaby
,
Mary Halvorson
, and Andrea Parkins, as well as longtime collaborator
Ches Smith
, arrived late in 2013. Soon after, Angel Guts: Red Classroom -- which took its name from a Japanese erotic film from the '70s and was touted as Xiu Xiu's darkest album to date -- appeared in January 2014. ~ Andy Kellman, Rovi
full bio
Selected Discography
Similar Artists