We created Pandora to put the Music Genome Project directly in your hands
It's a new kind of radio –
stations that play only music you like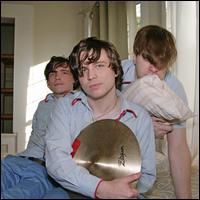 People who also like this
Their real names are a mystery. But their sound was unmistakable: a synth-enhanced noise rock explosion laced with verbal nonsense that defied comparison. XBXRX formed in Mobile, AL, in the spring of 1998 and headed into the studio when the lead guitarist had not yet entered high school. The Singer/Other Guitar Player, the Bass Player, the Guitar Player, the Drummer, and the Keyboard Player debuted with Greatest Hits, Vol. 2 on NFJM in 1998 and released singles and EPs with Anal Log, Troubleman, Sound on Sound, and Arkam. A full-length full of discordant fury, Gop Ist Minee was released on 5RC in 2001. The band toured with the likes of
Unwound
,
Deerhoof
,
Q and Not U
, and the Sissies, wearing various uniforms and playing short, frenzied sets. Four venues in their hometown of Mobile banned them, as did the city of Sunnyvale, CA. XBXRX broke up in the spring of 2002, though they released some previously recorded albums, such as Mardi Gras, a collaboration with
Mr. Quintron
and Miss Pussycat. The breakup proved short-lived as the band released
Sixth in Sixes
in September 2005, this time on the Polyvinyl label.
Wars
followed in 2007, preceded by a handful of 7" singles and concert-only promos. ~ Ron DePasquale, Rovi
full bio
Similar Artists