We created Pandora to put the Music Genome Project directly in your hands
It's a new kind of radio –
stations that play only music you like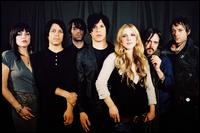 People who also like this
Indeed, it's been a long, strange trip for Warlocks leader Bobby Hecksher since his band played their first gig on July 4, 1998. Born in Florida, Hecksher grew up on a steady diet of rock & roll -- his mother worked at a radio station owned by his grandfather -- and in the late '80s, he moved to California and soon formed his first group, Charles Brown Superstar, who issued two singles and two full-length albums before calling it a day. Hecksher was later invited to play on
Beck
's
Stereopathetic Soul Manure
, then -- along with James Ambrose -- formed Magic Pacer, who waxed two albums for Win Records before Hecksher splintered off to do his own thing. (Hecksher was also briefly a member of
the Brian Jonestown Massacre
, led by kindred spirit Anton Newcombe.) Over the course of several years and many personnel changes (a constantly changing lineup being one of the group's trademarks), Hecksher eventually formed his eight-piece band, calling them the Warlocks, a moniker that had been previously used by early incarnations of both
the Velvet Underground
and
the Grateful Dead
. While no one will mistake them for a Deadhead band, the Warlocks' earliest recordings do often sound like they're channeling a fever-soaked
Velvet Underground
(circa
White Light/White Heat
), while drawing further influence from space rock, prog, and Krautrock bands (including
Neu!
and
Hawkwind
). The Warlocks subsequently emerged as leading lights on the Los Angeles music scene in 1999-2000, and in October 2000 Hecksher signed with America's oldest indie label, the Burbank-based Bomp!, who issued their self-titled debut EP in late 2000. In the fall of 2001, Bomp! released the Warlocks' first full-length album,
Rise and Fall
, but Hecksher and company jumped ship for another noted indie, Birdman Records, for their next album, 2002's
The Phoenix Album
. In some territories,
The Phoenix Album
was distributed by the respected British label Mute Records, and Mute teamed with the Warlocks to issue 2005's
Surgery
.
Surgery
didn't sell well enough to meet Mute's expectations, and after a one-off return to Bomp!, 2006's Destroy and Rebuild, the Warlocks ended up at the stoner-friendly Teepee Records, in part through the help of Anton Newcombe. After cutting two albums for Teepee, 2007's
Heavy Deavy Skull Lover
and 2009's
The Mirror Explodes
, the Warlocks took time off from recording while Hecksher formed his own label, Zap Banana Records (whose logo was a canny reference to the iconic artwork from the first
Velvet Underground
album). Hecksher launched the label with an expanded reissue of the
Rise and Fall
album, packaged with a bonus disc of rare tracks (including the Warlocks' version of "Cocaine Blues," which was the soundtrack to a short film by Hecksher that featured a cameo appearance by
Rivers Cuomo
of
Weezer
). In 2013, Hecksher unveiled his latest lineup of the Warlocks with a new album for Zap Banana,
Skull Worship
. ~ Bryan Thomas, Rovi
full bio
Selected Discography
Similar Artists