We created Pandora to put the Music Genome Project directly in your hands
It's a new kind of radio –
stations that play only music you like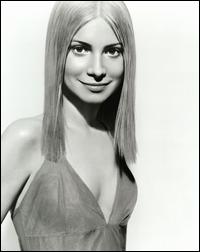 People who also like this
Most teen pop singers are actual teenagers who ostensibly try to shed their bubblegum image and shoot for credibility once they get older. Vitamin C is a strange exception: The onetime Colleen Fitzpatrick was lead singer of the punk-pop band
Eve's Plum
first
, and then made the switch to explicitly teen-oriented dance-pop when that band broke up, by which time she was well into her late twenties. Fitzpatrick was born July 20, 1972, in Old Bridge, NJ; she was a dancer in high school before becoming a singer in several local bands. She also tried acting, landing a role in John Waters' Hairspray in 1988. In 1991, she and guitarist Michael Kotch met while attending New York University and formed
Eve's Plum
together; after around a year, they landed a deal with Sony and wound up releasing two albums, 1993's
Envy
and 1995's Cherry Alive. Fitzpatrick subsequently left for a solo career, also taking on acting roles in The Naked Gun 2 1/2, Liar Liar, The Mambo Kings, Dracula 2000, and Get Over It.
In the meantime, Fitzpatrick refashioned herself as a dance-pop singer and scored a deal with Elektra in 1998. Her debut album,
Vitamin C
, was released in late summer 1999 and it produced two decent-sized hits in "Smile" (which featured Jamaican dancehall toaster
Lady Saw
) and "Me, Myself and I."
Vitamin C
really took off, though, with the impeccably timed release of the third single, "Graduation (Friends Forever)," the most blatantly teen-aimed song on the record. "Graduation (Friends Forever)" became a huge hit in the spring of 2000, hitting the Top Ten and helping push
Vitamin C
into platinum-sales territory. Fitzpatrick jumped on the marketing opportunities, licensing everything from her own doll to a shade of lipstick matching her signature orange hair. Toward the end of 2000, the second Vitamin C album, More, was issued, sporting a more age-appropriate image and subject matter. Again, it spun off a couple of decent-sized hits in "The Itch" and "As Long as You're Loving Me," but it didn't produce a breakaway smash on the order of "Graduation," and More failed to crack the Top 100. ~ Steve Huey, Rovi
full bio
Selected Discography
Similar Artists