Free personalized radio that
plays the music you love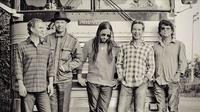 People who also like this
While hugely popular in their native Canada, the Tragically Hip found the global charts continually resistant to their blues-influenced pop fare. Formed in 1984 in Kingston, Ontario, the band comprised childhood friends
Gordon Downie
(vocals), Bobby Baker (guitar), Paul Langlois (guitar), Gord Sinclair (bass), and Johnny Fay (drums). The bandmembers took their name from a
Michael Nesmith
video entitled Elephant Parts, and focused on making a name for themselves on the local scene during the mid-'80s. While performing Toronto's Horseshoe Tavern, MCA Records president
Bruce Dickinson
was impressed by the Hip's infectious live presence and offered them a deal. A self-titled eponymous EP appeared in 1987, but it took the band two years to get critical attention. Their proper studio debut effort, 1989's Up to Here, boasted the swagger of "Blow at High Dough" and
Downie
's powerful songcraft was blossoming.
College charts were instantly attracted and fellow Canadians were appreciative of the Tragically Hip's insatiable appeal. Road Apples, issued in 1991, was moderately successful; however, the band's third album, Fully Completely (1993), allowed for international crossover. Singles such as "Courage" and "Wheat Kings" became mainstays in pockets of Michigan and New York; the Hip were slowly being noticed and American fans began cherishing them as much as their Canadian loyalists. They continued to rise steadily with 1995's somber storm, Day for Night, and their star power was burgeoning. Sold-out tours across Canada and Midwest America, and a spot on Saturday Night Live, catapulted the vibrancy of "Grace, Too" onto modern rock charts. The Tragically Hip were becoming an anthemic band among the split indie and rock crowds, practically on the verge of being an arena attraction.
Trouble at the Henhouse, their first album for Atlantic, was blistering with a passion similar to Day for Night's, but was released too soon after that previous effort. It wasn't radio-friendly enough for America, either, but the bandmembers weren't concerned. The Hip trudged on, selling out countless dates in North America.
Downie
, who was also a poetic madman, composed a frenzied stage presence and the band's tight rhythms were infectious. The mix of roots rock and light country tinges was something tangible during the mid-'90s grunge reign. While touring in support of Trouble at the Henhouse, the Hip recorded their first-ever live album, Live Between Us (1997). This particular album captured an astonishing night at Detroit's Cobo Arena in 1996, and was uncut and unfearing. The band was at the top of its game, never selling out to corporate ideals. They were a stadium sensation without ever having a major hit in America. The rest of the '90s was a time of rest, but also a period when the band returned to the basics of true rock & roll grit.
Phantom Power (1998), their sixth studio album and eighth overall, marked their most cohesive work to date. It was also their debut for Sire Records. The album was recorded in the band's hometown of Kingston and the songs themselves were cathartic and seductive. "Fireworks" and "Poets" were again mainstays on college radio. A showcase at Woodstock '99 proved glorious for Canadians the next summer. Music @ Work followed in summer 2000, with subsequent U.S. tours with
Guster
. The next year,
Gordon Downie
put his pen to paper for a book of poetry, and a solo album entitled Coke Machine Glow.
Downie
returned to the studio in 2001 to join his bandmates for another Hip record. Producer Hugh Padgham (
Split Enz
,
XTC
,
Phil Collins
) was also on board to tweak the Tragically Hip's ninth record, In Violet Light, issued in June 2002.
In Between Evolution, the band's most introspective work yet, followed in summer 2004. The following year saw the release of Hipeponymous, a limited-edition box set that included the two-disc greatest-hits compilation Yer Favorites and the live DVD That Night in Toronto: Pierre & Francois Lamoureux, as well as a bonus DVD of all of the group's videos. Fellow Canadian and famed producer Bob Rock (
Metallica
,
Bon Jovi
, Mötley Crüe) signed on for the Hip's 11th studio LP, World Container. Intimate club shows in Toronto, Calgary, Vancouver, and Montreal were also scheduled in celebration of its release in fall 2006. We Are the Same arrived in 2009. After a nearly three-year break, the Tragically Hip re-emerged with Now for Plan A in the fall of 2012. Tours of Canada and the U.S. consumed much of 2013, and the band began recording in 2014. Another busy year of touring followed in 2015. The single "In a World Possessed by the Human Mind" previewed the Hip's 13th studio album, Man Machine Poem; the album was released in June of 2016. ~ MacKenzie Wilson
full bio
Selected Discography
Similar Artists
Don't have a Pandora account? Sign up
Already have a Pandora account? Log In