Free personalized radio that
plays the music you love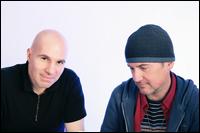 People who also like this
The Television Personalities
Britain's Television Personalities enjoyed one of the new wave era's longest, most erratic, and most far-reaching careers. Over the course of a musical evolution that led them from wide-eyed shambling pop to the outer reaches of psychedelia and back, they directly influenced virtually every major pop uprising of the period, with artists as diverse as feedback virtuosos
the Jesus and Mary Chain
, twee pop titans
the Pastels
, and lo-fi kingpins
Pavement
readily acknowledging Television Personalities' inspiration.
Television Personalities were the brainchild of singer/songwriter Dan Treacy, who grew so inspired by the nascent punk movement that he recorded a 1977 single, "14th Floor," with his friends in the group O Level. The BBC's John Peel became a vocal supporter of the group, which was soon dubbed Television Personalities. A year later they issued the Where's Bill Grundy Now? EP, featuring their lone hit, "Part-Time Punks."
Always a loose-knit group, the first relatively stable TVP lineup consisted of Treacy, organist/vocalist Ed Ball, and guitarist Joe Foster, who recorded the band's 1980 debut, And Don't the Kids Just Love It, a step into psychedelic pop typified by songs like "I Know Where Syd Barrett Lives." Treacy and Ball soon founded their own label, Whaam! (later renamed Dreamworld after threats from
George Michael
's attorneys), to issue 1981's Mummy Your Not Watching Me, which made the Personalities one of the figureheads of a London psychedelia revival.
Ball exited around the time of the release of 1982's They Could Have Been Bigger Than the Beatles, a collection of re-recordings along with renditions of
the Creation
's "Making Time" and "Painter Man." Released in 1984, the dark and moody The Painted Word was followed the next year by the live set Chocolat-Art, by which point TVPs were in dire straits -- broke and without a label, they could do little but infrequently perform live for several years, and were forced to watch the C-86/anorak pop groundswell (a movement they directly presaged) from the sidelines.
Comprised of Treacy, ex-
Swell Map
Jowe Head
, and drummer Jeffrey Bloom, the band finally won a contract with Fire Records in 1989, and resurfaced later that year with the EP Salvador Dali's Garden Party, followed in 1990 by the mod-flavored Privilege. After a handful of singles and EPs, Television Personalities issued the 1992 double-LP Closer to God; despite critical approval, the album failed to find an audience, and Treacy reportedly fell prey to depression and drug problems. After several more years of occasional singles, they issued the harrowing I Was a Mod Before You Was a Mod, followed in 1996 by Top Gear.
By the time that Don't Cry Baby...It's Only a Movie was released in November of 1998, Treacy had gone missing. Rumors of mental illness, drug abuse, homelessness, and even death were tossed about until finally in 2004 Treacy wrote a letter to Iain Baker, an old friend and DJ at London's XFM. In it he disclosed that he was incarcerated on a prison boat in Dorset. Following his release in June of 2004, Treacy set about resurrecting TVPs, playing some gigs and posting a hilarious web journal. Finally, in March of 2006 a new album, My Dark Places, was released on the influential Domino label. Are We Nearly There Yet? followed one year later, although some of its material had been recorded just after Treacy's release from prison. Numerous live gigs and tours followed during the rest of the 2000s, including a spot on December 2009's
All Tomorrow's Parties
event (curated by
My Bloody Valentine
). In June of the following year, A Memory Is Better Than Nothing appeared on the Rocketgirl label, and the band earned high praise as well as publicity when
MGMT
debuted "Song for Dan Treacy" on their album Congratulations. Late in 2011, however, news broke that a critically ill Treacy was in a coma after undergoing surgery to remove a blood clot from his brain. ~ Jason Ankeny, Rovi
full bio
Selected Discography
Similar Artists
Don't have a Pandora account? Sign up
Already have a Pandora account? Log In