Free personalized radio that
plays the music you love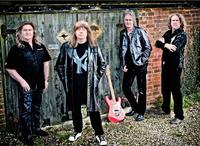 People who also like this
In some ways, the Sweet epitomized all the tacky hubris and garish silliness of the early '70s. Fusing bubblegum melodies with crunching, fuzzy guitars, the band looked a heavy metal band, but were as tame as any pop group. It was a dichotomy that served them well, as they racked up a number of hits in both the U.K. and the U.S. Most of those hits were written by Nicky Chinn and
Mike Chapman
, a pair of British songwriters that had a way with silly, simple, and catchy hooks. Chinn/
Chapman
and Sweet were smart enough to latch on to the British glam rock fad, building a safer, radio-friendly and teen-oriented version of
Queen
,
T. Rex
, and
Gary Glitter
. By the end of the '70s, the group's time at the top of the charts had expired but their hit singles lived on not only as cultural artifacts, but also as the predecessors for the pop-metal of the '80s.
Originally, the Sweet were called the Sweetshop and consisted of
Brian Connolly
(vocals), Mick Tucker (vocals, drums), Frank Torpey (guitar), and Steve Priest (bass). In 1970, the group truncated their name to Sweet and signed a record contract with Fontana/EMI, releasing four unsuccessful singles. Following the failure of the four singles, Torpey left the group and was replaced by Andy Scott. The new lineup of Sweet signed to RCA Records in 1971, where they were placed under the direction of songwriters Nicky Chinn and
Mike Chapman
. Chinn and
Chapman
wrote a number of light bubblegum pop songs for the group, the first of which, "Funny Funny," reached number 13 on the U.K. charts. Following "Funny Funny," the duo wrote five more Top 40 hits for the group -- including "Little Willy" and "Wig-Wam Bam" -- which were all lightweight bubblegum numbers loaded with double entendres. During this time, Sweet were writing their own B-sides and album tracks. All of the group's compositions were harder than Chinn and
Chapman
's songs, featuring crunching hard rock guitars. Consequently, the duo decided to write tougher songs for the group. "Blockbuster," the first result of Chinn and
Chapman
's neo-glam rock approach, was the biggest hit Sweet ever had in the U.K., reaching number one on the charts in early 1973 and eventually going platinum. For the next two years, Sweet continued to chart with Chinn and
Chapman
compositions, including the Top Ten hits "Hell Raiser," "Ballroom Blitz," "Teenage Rampage," and "The Six Teens."
By the summer of 1974, the members of Sweet had grown tired of the control Chinn and
Chapman
exerted over their career and decided to record without the duo. The resulting album, Sweet Fanny Adams, reached number 27 in the U.K., but it yielded no hits. In the spring of 1975, Sweet had their first self-penned hit with "Fox on the Run," which reached the Top Ten in both the U.K. and the U.S. "Fox on the Run" appeared on the collection Desolation Boulevard; in America, it's release helped "Ballroom Blitz" reach the Top Ten in the summer of 1975. Strung Up, released in the fall of 1975, continued the group's move toward album-oriented rock. For the rest of the decade, the group continued to churn out albums, which were all less successful than their predecessor. Sweet bounced back into the charts in 1978 with "Love Is Like Oxygen," but the single proved to be their last gasp; they never reached the Top Ten again, neither in the U.S. or the U.K.
Connolly
left the band after "Love Is Like Oxygen" and the group replaced him with keyboardist Gary Moberley. The group carried on for three more years, releasing three more albums that all achieved little success. After several years of little success or attention, Sweet broke up in 1982. In the decade following their breakup, Sweet reunited on various occasions. In 1985, a dance club medley of their hits called "It's the Sweet Mix" became a British Top 50 hit and, following the single's success, the group re-formed for a tour that proved to be less anticipated than expected. Later in the decade, Scott toured as part of the group Paddy Goes to Holyhead. In 1989, Scott and Tucker re-formed Sweet to record a live album at London's Marquee Club. ~ Stephen Thomas Erlewine
full bio
Selected Discography
Similar Artists
Don't have a Pandora account? Sign up
Already have a Pandora account? Log In