We created Pandora to put the Music Genome Project directly in your hands
It's a new kind of radio –
stations that play only music you like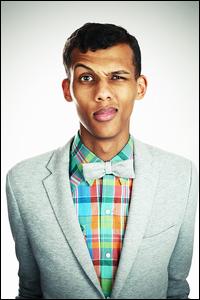 People who also like this
Stromae is a Belgian vocalist, songwriter, and producer whose music combines hip-hop flavors with the cool, polished rhythms of house and other varieties of electronic dance music; he's also known for his clean-cut look and trademark bow tie.
Stromae was born Paul van Haver in Brussels on March 12, 1985. His father, from Rwanda, left the family when Paul was young and rarely saw him; Paul was raised by his Belgian mother and developed an interest in music at an early age. When he was 11, Paul became a student at L'Académie Musicale de Jette, and started playing the drums. In 2005, he took up rap music, and after briefly performing as Opmaestro, he took the stage name Stromae (an anagram for "Maestro") and launched a short-lived hip-hop combo named Suspicion.
By 2007, Stromae was back to working as a solo act, and he recorded his first single, "Juste un Cerveau, un Flow, un Fond et un Mic...." It was in 2009 that he got his real big break -- while working at a Belgian radio station, he created the song "Alors on Dance" using his home-recording setup, and the manager of the station was impressed enough with the track to play it on air. Response from listeners was enthusiastic, and Stromae struck a deal with Polygram Records: "Alors on Dance" became a number one hit in Belgium, and went on to repeat that success in a dozen countries, including Germany, France, Italy, Switzerland, Greece, and Denmark.
As "Alors on Dance" climbed the charts across Europe and Stromae's videos became a sensation on YouTube, he released his first album, Cheese, in 2010. In August 2010, Stromae's career got a major boost in the United States when
Kanye West
collaborated with him on a remix of "Alors on Dance," featuring a guest rap from
West
. His follow-up, Racine Carrée, appeared in August 2013. Distinguished by his integration of African and Caribbean influences, the album was an immediate success in Belgium and France, spending virtually the rest of the year at number one in each country. ~ Mark Deming, Rovi
full bio
Selected Discography
Similar Artists