We created Pandora to put the Music Genome Project directly in your hands
It's a new kind of radio –
stations that play only music you like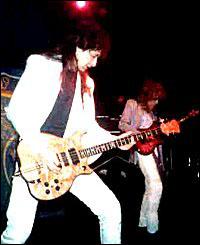 People who also like this
Starcastle (along with
Styx
, Fireballet, and
Kansas
) were part of a belated stateside response to British progressive rock. With Gary Strater's melodic bass lines, Herb Schildt's Moog runs, and Terry Luttrell's sometimes precious vocals, the band was clearly modeled from
Yes
, particularly in its first two releases. While Starcastle usually came out the worse for such comparisons, there were genuine moments of fine, intricate musicianship.
Citadel
(1977) showed some musical growth away from their "
Yes
-lite" phase, but the band weathered 1978 about as badly as their British inspirations and fell apart after the artistically and financially disastrous album Reel to Real.
Strater retained the band's name for a revamped configuration in the '80s, and this lineup produced some music that overcame the long shadow over the band's credibility in progressive circles. Unfortunately, no albums were released in this period. When Starcastle reconvened in the mid-1990s, there was talk by band members of releasing a new album, a possibility heightened by the CD reissue of their back catalog in 1998. ~ Paul Collins, Rovi
full bio
Similar Artists