Free personalized radio that
plays the music you love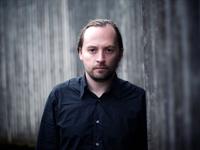 People who also like this
Tom "Squarepusher" Jenkinson makes manic, schizoid, experimental drum'n'bass with a heavy progressive jazz influence and a lean toward pushing the clichés of the genre out the proverbial window. Rising from near-total obscurity to drum'n'bass cause célèbre in the space of a couple of months, Jenkinson released only a pair of EPs and a
DJ Food
remix for the latter's Refried Food series before securing EP and LP release plans with three different labels. His first full-length work, Feed Me Weird Things (on Richard "Aphex Twin" James' Rephlex label), was a dizzying, quixotic blend of super-fast jungle breaks with
Aphex
-style synth textures, goofy, offbeat melodies, and instrumental arrangements (he samples his own playing for his tracks) that vaguely recall jazz fusion pioneers such as
Mahavishnu Orchestra
and
Weather Report
. A skilled bassist and multi-instrumentalist, Jenkinson's fretless accompaniment is a staple of his music and one of the more obvious affiliations with jazz (although his formal arrangements are often as jazz-derived as his playing).
Jenkinson grew up listening to jazz and dub greats like
Miles Davis
,
Augustus Pablo
,
Charlie Parker
, and
Art Blakey
. The son of a jazz drummer, Jenkinson followed in his father's footsteps, playing bass and drums in high school. Introduced to electronic music through experimental electro-techno artists such as
LFO
and
Carl Craig
, Jenkinson soon began assembling his disparate influences into amalgams of breakbeat techno and post-bop avant-garde and progressive jazz. Claiming a closer affinity with jazz than jungle (although he draws from both equally in his music), Jenkinson's EPs as Squarepusher and the Duke of Harringay (Jenkinson moved to Harringay from his Chelmsford birthplace) were initially disregarded as misplaced perversions of jungle's more obvious compositional principles, but found ready audiences in fans of post-acid house experimental listening music. He inked a deal with Warp in 1995, releasing the Port Rhombus EP and three others through a variety of different labels. The aforementioned full-length Feed Me Weird Things appeared in 1996, followed a year later by Hard Normal Daddy.
Critical acclaim for Jenkinson's work peaked with 1998's Music Is Rotted One Note, for which he became a one-man fusion group -- multi-tracking himself playing drums, bass, and keyboards. The following year, he released two EPs (Budakhan Mindphone, Maximum Priest) and another full LP, Selection Sixteen. Go Plastic appeared in summer 2001, featuring the closest thing to a hit Squarepusher had ever seen with the single "My Red Hot Car." Subsequent releases such as 2003's Do You Know Squarepusher and 2004's Ultravisitor found him refining his fusion of composition, programming, and musicianship, characteristics that were also heard on 2006's Hello Everything and 2008's Just a Souvenir. After a record of solo bass (titled Solo Electric Bass, Vol. 1), he unveiled his next project, a masked foursome named
Shobaleader One
that released a 2010 collaboration album (Shobaleader One: D'demonstrator) consisting of throwback electronic pop with an R&B edge and synthesized vocals, not unlike
Daft Punk
. In 2012, Jenkinson returned with the coldly symphonic Ufabulum, adding an apocalyptic soundtrack feel to his already dense programming. In 2013, he worked with a team of Japanese roboticists on an ambitious project called Z-Machines, the creation of robots that could play music far beyond the capabilities of even the most skilled human instrumentalists. Jenkinson aided the robotics team in the composition of music for these robots to play, set to life by a 22-armed drumming robot and a guitar-playing robot with the equivalent of 78 fingers. The next year, Warp Records released the Music for Robots EP, a five-song recording of the results of the experiment. 2015 saw the release of Damogen Furies, a full-length that found Jenkinson pushing the limits of even his own unbridled hysteria, employing punishing overdriven tones on almost every beat, synth, and bassline on the album. ~ Sean Cooper & John Bush
full bio
Selected Discography
Similar Artists
Don't have a Pandora account? Sign up
Already have a Pandora account? Log In