Free personalized radio that
plays the music you love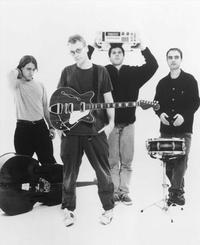 People who also like this
One of the most unique cult bands of the '90s, Soul Coughing anchored a new crop of quirky, unclassifiable bands that emerged in the post-grunge era, including
Morphine
,
the Eels
, and
Cake
. Driven by frontman M. Doughty's stream-of-consciousness poetry, Soul Coughing's sound was a willfully idiosyncratic mix of improvisational jazz grooves, oddball samples, hip-hop, electronics, and noisy experimentalism (described by Doughty as "deep slacker jazz"). Even at the height of the alternative rock era, it was too avant-garde to cross over into the mainstream, keeping one foot planted in the downtown New York scene from whence the band sprang. Yet their ironic sense of humor and stylized bohemian-hipster image made them accessible enough to earn a widespread, enthusiastic following on college campuses. Moreover, they built a reputation as an excellent live act, thanks to a jazz aesthetic that kept their concert performances fresh and spontaneous (not to mention a liberal policy on fans trading tapes). After three generally acclaimed albums, the group split up, and Doughty mounted a solo career.
Soul Coughing was formed in New York City in 1992 by lead vocalist
Mike Doughty
(who usually preferred the stage name M. Doughty). A military brat born at Fort Knox, Doughty had previously worked as a music critic, and wrote abstract, Beat-influenced poetry of the sort that went over well at live poetry slams. He also held a job as the doorman for the famed cutting-edge venue the Knitting Factory, which afforded him the opportunity to meet an eclectic array of musicians on the downtown avant-garde scene. He eventually recruited keyboardist/sampler Mark de Gli Antoni, bassist Sebastian Steinberg, and Israeli-born drummer Yuval Gabay (bassist Wilbo Wright and cellist Catherine Bent were very briefly in the group before the quartet solidified). Taking their name from the title of a poem Doughty had written about
Neil Young
vomiting, Soul Coughing made their live debut in June 1992 at the Knitting Factory (naturally enough).
They built enough local buzz to land a deal with Warner Brothers subsidiary Slash in 1993. Soul Coughing's debut album Ruby Vroom -- named after producer
Mitchell Froom
's daughter -- was released in 1994 to mostly complimentary reviews. The late-night barroom atmospherics of "Screenwriter's Blues" helped the band start to catch on at college radio, as did the accompanying singles "Down to This" and "Sugar Free Jazz." Their second album, 1996's Irresistible Bliss, only amplified the buzz around the band, thanks to the alternative-radio hits "Soundtrack to Mary" and "Super Bon Bon." They went on to contribute material to several soundtrack albums, including Songs in the Key of X: Music From and Inspired By the X-Files ("Unmarked Helicopters"), Batman & Robin ("The Bug"), and the X-Files movie ("16 Horses"). Soul Coughing issued their third album, El Oso ("the bear") in 1998, and received their greatest mainstream exposure with the leadoff single "Circles," a good-sized hit on alternative radio.
However, it proved to be the band's last effort, as they announced their breakup in March 2000. de Gli Antoni had already released a solo album, Horse Tricks, that returned him to his roots in experimental electronic composition; it featured contributions from the other members of Soul Coughing and was released on
John Zorn
's Tzadik label. de Gli Antoni moved on to a career scoring short and independent films, including 2002's quirky romantic comedy Cherish. Steinberg and Gabay, meanwhile, continued to work together as UV Ray. Doughty, meanwhile, cleaned up from an addiction to heroin, and appeared as a guest vocalist on trance producer
BT
's club hit "Never Gonna Come Back Down" that summer. He also played a series of shows behind his solo acoustic album, Skittish, which had been completed in 1995 but never officially released until Doughty decided to circumvent Napster and sell the album from his own website. His official solo debut was reportedly in the works, but wound up postponed; however, he did issue another solo acoustic album, Smofe + Smang: Live in Minneapolis, in 2002, and continued his periodic work as a columnist for the New York Press. Meanwhile, the performance-oriented Kufala label attempted to arrange the release of several archival Soul Coughing live albums, although intra-band disputes put off the project indefinitely. ~ Steve Huey
full bio
Selected Discography
Similar Artists
Don't have a Pandora account? Sign up
Already have a Pandora account? Log In