We created Pandora to put the Music Genome Project directly in your hands
It's a new kind of radio –
stations that play only music you like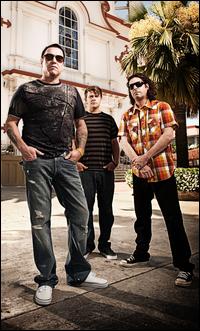 People who also like this
A novelty rock band in the same vein as
Presidents of the United States of America
, but with surf and garage influences instead of
the Presidents
' punk/thrash background, Smash Mouth found a hit in 1997 with the '50s-influenced "Walkin' on the Sun." The group was formed in 1994 in San Jose, CA, by vocalist Steve Harwell, a former rapper with the group F.O.S. After that group disintegrated, he began jamming with an old friend, drummer Kevin Coleman. Harwell's former manager introduced him to guitarist
Greg Camp
(fresh from the local band Lackadaddy) and bassist Paul DeLisle. The quartet recorded two demos, and got the songs into rotation on a local radio station. After playing a summer festival with
No Doubt
and
Beck
, Smash Mouth decided to record an album. After finishing
Fush Yu Mang
, the group were signed by Interscope, which released "Walkin' on the Sun" as the first single. It became a number one modern rock hit and pushed the album into the Top 40. Touring further helped the album's push, and the band added in a live keyboardist, Michael Klooster, to bolster their performances (and later live percussionist Mark Cervantes as well).
The follow-up album,
Astro Lounge
, was released in 1999, generating the hit "All Star"; a collection of early material, East Bay Sessions, also appeared that same year. A severe back ailment eventually lead to Coleman's exit from the band; he was replaced by ex-
Tripping Daisy
drummer Mitch Marine for the album's subsequent tour and further swapped out for Michael Urbano at its completion. Though no other hits with equal weight were forthcoming from
Astro Lounge
, the band's work of the early 2000s (2001's
Smash Mouth
and 2003's
Get the Picture?
) pleased fans of sparkling pop music. The group also contributed numerous tracks to a plethora of motion pictures, most notably their cover of
the Monkees
' "I'm a Believer" (from their eponymous release) to the soundtrack of 2001's hit movie Shrek, and many of these then appeared on the August 2005 Smash Mouth hits collection
All Star Smash Hits
. Harwell could be spotted in early 2006 as a cast member on the sixth season of VH1's celeb-reality TV show The Surreal Life, just as drummer Urbano was leaving the band due to creative differences. His spot was claimed in March by Jason Sutter, who had previously done work with
American Hi-Fi
and
the Rembrandts
. Smash Mouth's fifth studio album,
Summer Girl
, appeared in early September. It would be six years before the band released another album, returning in the summer of 2012 with their sixth album, Magic. ~ John Bush, Rovi
full bio
Selected Discography
Similar Artists