We created Pandora to put the Music Genome Project directly in your hands
It's a new kind of radio –
stations that play only music you like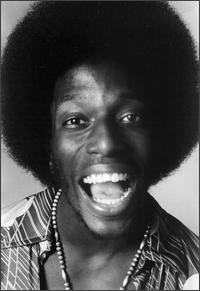 People who also like this
James Brown
may have invented funk, but Sly Stone perfected it; his alchemical fusion of soul, rock, gospel, and psychedelia rejected stylistic boundaries as much as his explosive backing band
the Family Stone
ignored racial and gender restrictions, creating a series of euphoric yet politically charged records that proved a massive influence on artists of all musical and cultural backgrounds. Sylvester "Sly Stone" Stewart was born March 15, 1943, in Denton, TX, and raised primarily in Vallejo, CA, where he sang with his family's gospel group. After singing lead with a doo wop group called the Viscaynes, at 16 he recorded the local hit "Long Time Gone," concurrently spinning records for Bay Area radio station KSOL. After studying trumpet, composition, and theory at Vallejo Junior College, in 1964 Stewart signed to local label Autumn Records, where he cut a series of solo singles in addition to serving as a house producer; there he helmed
Bobby Freeman
's national chart smash "C'mon and Swim" as well as sessions by
the Beau Brummels
, the Mojo Men, and
the Great Society
.
In 1966, Stewart formed the group Sly & the Stoners, while his younger brother Freddie led his own band, Freddie & the Stone Souls; soon the siblings merged the two acts, and with bassist
Larry Graham
, trumpeter Cynthia Robinson, saxophonist Jerry Martini, and drummer Greg Errico,
Sly & the Family Stone
were born. After issuing their debut single, "I Ain't Got Nobody," on the local Loadstone imprint, the group signed to Epic to release their 1967 debut LP,
A Whole New Thing
; Dance to the Music followed in 1968, and generated a Top Ten hit with the title cut. Later that year,
Sly & the Family Stone
topped both the pop and R&B charts with the two-sided smash "Everyday People" b/w "Sing a Simple Song"; and with the classic
Stand!
, the band's music became increasingly politicized on standouts like the hit title track and "Don't Call Me N**ger, Whitey." As the group's chief vocalist, songwriter, and producer, Stone pushed the envelope further with each successive release; and with the 1970 chart-topper "Thank You Falettinme Be Mice Elf Agin," he essentially created the sonic blueprint for the funk and disco that dominated the decade to follow via a percussive groove propelled by
Graham
's pop-and-slap bassline.
However, as the utopian ideals of the 1960s gave way to the paranoia and corruption of the 1970s, the celebratory sound that once epitomized
Sly & the Family Stone
gave way to the bleakly unsettling There's a Riot Goin' On, a dark, militant masterpiece that yielded the hits "Family Affair" and "Running Away." Stone's grim world view was due in no small part to his increasing narcotics problem, and he became notorious for arriving late to live gigs or missing shows altogether. Released in 1973,
Fresh
was
Sly & the Family Stone
's last truly great album, and after issuing Small Talk the band unraveled, with 1975's High on You credited to Stone alone. As his drug problems and legal battles became public knowledge, efforts like 1976's Heard Ya Missed Me, Well I'm Back and 1979's Back on the Right Track attracted little interest, as did a subsequent tour with George Clinton & the P-Funk All-Stars and a 1983 comeback effort, Ain't But the One Way. After a 1987 single, "Eek-a-Bo-Static," failed to even chart, Stone instead made headlines for a cocaine bust that led to his incarceration. Despite
Sly & the Family Stone
being inducted into the Rock & Roll Hall of Fame in 1993, Stone failed to make a substantial comeback in the '90s. ~ Jason Ankeny, Rovi
full bio
Selected Discography
Similar Artists