Free personalized radio that
plays the music you love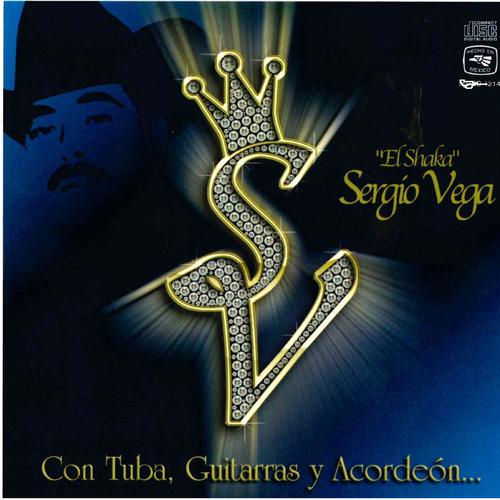 People who also like this
Sergio "El Shaka" Vega was born into a musical family in the working-class rural village of Ciudad Obregon, in the state of Sonora, Mexico. The eighth son in a family of 13, Sergio lived among uncles and members of an extended family who would play songs and sing before heading out for the day's work. Surrounded by song, the young Sergio grew up with very little, but for his immersion in regional Mexican music. At the age of 19, Sergio immigrated to the United States, to join his brothers Jesus and Ramon, who were living in Phoenix, AZ. Working construction during the day and playing bars at night with his brothers under the group name Los Hermanos Vega, Sergio gained valuable performance experience before returning to Mexico. A short time later, the Vega brothers returned to their homeland and began recording and performing under the name Los Reyes del Norte. Vega's first hit, "Como la Lluvia," earned the group some recognition. It was during those early days that Sergio earned his nickname "El Shaka," because of the fearless quality he shared with the famous Zulu warrior.
As his group gained popularity, the need for a distinct name arose.
Los Shakas del Norte
began recording for a small local independent label, though it wasn't long before Vega's talent and charisma were discovered by the majors. A difficult period, fraught with alcohol and drug abuse, soon clouded Vega's talent and artistic vision. Vega retired from music, and practically became lost between 2001 and 2003. In a dramatic return to the recording industry and his fans, Vega released Me Gusta Estar Contigo in 2004, earning him a place on the Billboard Latin charts and his highest sales to date. In 2005, Sergio had the misfortune of losing his brother Ramon, his musical mentor. Plaza Nueva was released that year in his memory.
Throughout the remainder of the decade, Vega recorded prodigiously, with many of his releases featuring ballads in the narcocorrido style that focuses on subjects related to drug dealers and trafficking; his albums included 2006's Necesito Dueña and Puros Madrazos: Rancheras y Corridos; 2007's Dueno de Ti... Lo Mejor de El Shaka and Cuando el Sol Salga al Revés; 2009's Quien Es Usted and Puras Cumbias; and 2010's Rey de la Banda y Norteño and Millonario de Amor. Vega had become one of regional Mexican music's great exponents, openly sharing his story of rebirth and delivery from substance abuse, and while he gave credit to God for his second chance at life, he was tragically cut down on June 26, 2010 at the age of 40 when shot to death by gunmen in a truck who pursued his red Cadillac as he drove toward a scheduled festival appearance at a Sinaloan town. Vega's murder occurred mere hours after he had refuted false online reports that he had been killed. ~ Evan C. Gutierrez
full bio
Selected Discography
Similar Artists
Don't have a Pandora account? Sign up
Already have a Pandora account? Log In