We created Pandora to put the Music Genome Project directly in your hands
It's a new kind of radio –
stations that play only music you like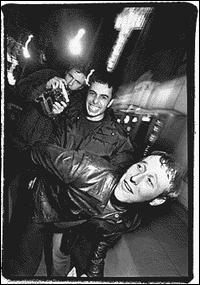 Albuquerque garage punk-pop trio Scared of Chaka was formed in 1993 by guitarist/vocalist Dave Yanul Hernandez, bassist Dameon Waggoner, and drummer Ron Skrasek. Their hyper-fast, humorous,
Dickies
-influenced style debuted on 1995's Hutch Brown Sayngwich, recorded for the 702 label; the slower Scared of Chaka followed in 1996, and a jump to eMpTy Records produced another album, the fan-favorite Masonic Youth, just a few months later. How to Lose was issued in 1998, and followed a year later by
Tired of You
, recorded for Sub City.
Crossing with Switchblades
appeared in summer 2001 on Hopeless, after which the band called it quits. Hernandez went on to form Broadcast Oblivion in 2002 before joining up on bass with his old indie pop friends
the Shins
(of which he and Skrasek were part of an early incarnation of the band). ~ Steve Huey, Rovi
full bio
Similar Artists