We created Pandora to put the Music Genome Project directly in your hands
It's a new kind of radio –
stations that play only music you like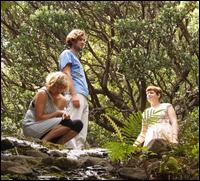 People who also like this
The Ruby Suns combine psychedelic indie pop with world music influences, drawing inspiration from the travels of the group's only permanent member, Ryan McPhun. Although born and raised in California, McPhun's thirst for adventure eventually drew him halfway across the globe, where he ventured into Africa and Thailand before settling in New Zealand. Auckland's music scene was rich, and the multi-instrumentalist spent time in various pop groups (the Tokey Tones, the Reduction Agents, and
the Brunettes
) while fronting his own act, Ryan McPhun & the Ruby Suns. After releasing a self-titled debut under that moniker, the band shortened its name to the Ruby Suns and signed with Lil' Chief Records, securing distribution deals in Europe and Australia along the way.
The Ruby Suns toured the U.S. in 2006, and McPhun returned home to write and record the band's sophomore effort in his Auckland basement. Inspired by the indigenous music of Africa and Kenya, the diverse
Sea Lion
-- named after a sea lion colony that lies adjacent to California's Hwy 1 -- was released in 2008 on several labels, including the Seattle-based Sub Pop.
Sea Lion
helped expand the band's audience considerably, and the Ruby Suns supported its release with a number of tours, including a European jaunt during the spring of 2009. While overseas, the bandmates also spent ten days at a friend's home in Hungary, where they began composing new material. Those songs eventually found their way onto 2010's Fight Slowly, an electro-pop album that Ryan McPhun recorded entirely on his own. In early 2013, McPhun re-emerged with fourth album Christopher. The album moved even further away from the project's homespun beginnings, with enormous production from Grizzly Bear and Beach House producer Chris Coady applied to glassy, big beat electro-pop tracks. ~ Andrew Leahey, Rovi
full bio
Selected Discography
Similar Artists