We created Pandora to put the Music Genome Project directly in your hands
It's a new kind of radio –
stations that play only music you like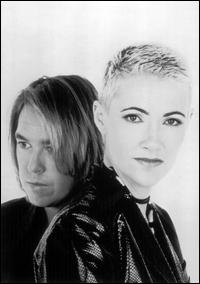 People who also like this
Roxette were one of the biggest global pop acts of the 1980s, selling over 75 million records around the world and dominating the charts with songs like "The Look," "Listen to Your Heart," "Joyride," and "It Must Have Been Love." Hailing from Halmstad, Sweden, Roxette were a duo featuring vocalist Marie Fredriksson and songwriter, vocalist, and multi-instrumentalist
Per Gessle
. Fredriksson and
Gessle
first met in the late '70s, when she was a member of the pop combo Strul & Ma Mas Barn and he played with
Gyllene Tider
, one of Sweden's biggest groups of the late '70s and early '80s. In 1981, after Fredriksson's group broke up, she joined
Gyllene Tider
as backing vocalist for a concert tour, and later worked with them in the studio in the same capacity. In 1984, Fredriksson released her first solo album, Het Vind (Hot Wind) and
Gessle
contributed a song for the sessions; the same year,
Gyllene Tider
recorded their only English-language album,
The Heartland Café
, and
Gessle
once again invited Fredriksson to contribute to the sessions. For the American release,
Gyllene Tider
's American label, Capitol Records, edited the 11-song album down to a six-track EP, and shortened the title to
Heartland
. Capitol also felt the name
Gyllene Tider
might not register with U.S. listeners, so the group adopted the name Roxette, taken from a song by British pub rock icons
Dr. Feelgood
.
The Heartland Café
proved to be
Gyllene Tider
'd last album, and
Gessle
decided it was finally time for him and Fredriksson to record a project together. As Roxette, they cut a single in 1986, "Neverending Love," which was a major hit in Sweden, and a number of songs Fredriksson and
Gessle
had ear-marked for her third solo album became the basis of the first proper Roxette album, Pearls of Passion. In hopes of greater international success, Roxette wrote and recorded their material in English, but while Pearls of Passion was a hit at home, Capitol/EMI didn't bother to release the album in the United States. The same fate initially befell 1988's
Look Sharp!
until an American student studying in Sweden brought a copy of the album home to Minneapolis and persuaded a DJ at a local radio station to give "The Look" a spin. The song clicked with listeners, and soon Capitol rush-released
Look Sharp!
in the United States; both "The Look" and "It Must Have Been Love" went to number one on the singles charts, and the album went platinum, establishing Roxette in the States and kickstarting their career in Europe. Their next album, 1991's
Joyride
, also went platinum in America, and it was followed in 1992 by Tourism: Songs from Studios, Stages, Hotel Rooms and Other Strange Places, a collection of material recorded during the group's 1991 world tour. In 1994, Roxette released
Crash! Boom! Bang!
, which was successful in Sweden and Europe but failed to live up to the sales figures of their second and third albums in America. In 1996, Roxette went on hiatus after recording a Spanish-language album, as
Gyllene Tider
staged a reunion tour and
Gessle
released a solo album. Roxette returned to duty in 1999 with the album
Have a Nice Day
, and Room Service followed in 2001, with the duo making a high-profile appearance as part of the Eurovision Song Contest. However, in the fall of 2002, Roxette was forced to curtail their activities when Fredriksson was diagnosed with a brain tumor; over the next several years, she focused on her recovery and recorded solo material, while
Gessle
also pursued solo projects and staged another
Gyllene Tider
reunion. In 2008,
Gessle
surprised fans at a concert in Amsterdam when he brought out Fredriksson to sing several Roxette hits, and in 2009, the duo staged a comeback tour that sold out halls all across Europe and the Netherlands. With Fredriksson back in fighting shape, Roxette returned to the recording studio, and 2011's Charm School was their first album of new material in ten years, followed by another successful world concert tour. ~ Mark Deming, Rovi
full bio
Selected Discography
Similar Artists