We created Pandora to put the Music Genome Project directly in your hands
It's a new kind of radio –
stations that play only music you like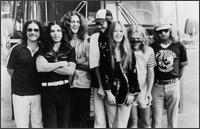 People who also like this
The Rossington Collins Band
Rossington Collins Band were spawned by one of rock music's most well-known tragedies -- in October of 1979, two years after the plane crash that killed
Lynyrd Skynyrd
lead singer Ronnie Van Zant, new guitarist Steve Gaines, and his sister, backup singer Cassie Gaines, surviving members Gary Rossington and Allen Collins (guitars), Leon Wilkeson (bass), and keyboardist Bill Powell decided to try working together again, this time fronted by singer Dale Krantz. They were trying to be something other than a
Lynyrd Skynyrd
clone, although as the latter group had expressed the musical leanings of all concerned quite honestly, they also weren't moving far from the tree that had spawned them. Krantz had previously been a backup singer behind Donnie Van Zant, Ronnie's brother, in
.38 Special
, which itself owed something to
Skynyrd
's sound. With Barry Harwood bringing a third guitar to the table and Derek Hess taking the drummer spot, they pulled their sound together fast, and waiting in the wings was MCA Records. The latter company was still reaping gold and platinum record awards from the release of
Lynyrd Skynyrd
outtakes and compilations, and was very interested in any viable performing group that could tap into that audience, and there was no one better suited at the time.
Rossington Collins Band, as they came to be called, were more than a cash-in effort. With three powerful guitarists and a rhythm section the envy of anyone in rock, a strong singer fronting them, and the combined talents of several good in-house songwriters, they were a solid hard rock outfit with a soulful edge. Fans flocked to them in the second half of 1980 when they issued their first LP,
Anytime, Anyplace, Anywhere
, which made it to the Top 20 and earned a gold record award with help from the single "Don't Misunderstand Me." The group might have been able to build on that beginning but for events in Allen Collins' life starting late that same year -- the loss of his wife was only the beginning of a tragic series of events that ultimately destroyed his career and took his life; it was enough to remove him from most of the creative aspects of the band's music, and he was barely visible as a composer on the group's next album, This Is the Way (which was dedicated to Katy Collins' memory). The album was surprisingly good considering the circumstances behind its recording and release, rising into the Top 30.
The group lasted only until the early months of 1982. In its place, Rossington and Krantz, who had married by then, formed the Rossington Band with Hess still on drums, in the mid-'80s. This offshoot group was short-lived as well, and was eclipsed by the various reunited incarnations of
Skynyrd
that began manifesting themselves by the late '80s, which included Wilkeson and Rossington, while Rossington's wife took the role of backing vocalist. Their history cut short, Rossington Collins Band never had a chance to live up to their potential, but they were successful enough to rate CD releases of their two albums in the late '80s, and in 2000 got a belated release of both albums on CD in England. ~ Bruce Eder, Rovi
full bio
Selected Discography
x
Track List:
The Best Of The Rossington Collins Band - 20th Century Masters The Millennium Collection
Similar Artists