We created Pandora to put the Music Genome Project directly in your hands
It's a new kind of radio –
stations that play only music you like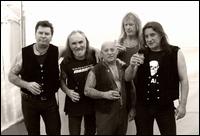 People who also like this
Aussie hard rock combo Rose Tattoo have persisted on and off with many personnel changes for well over 30 years, and by the end of the 2000s were still making live appearances despite the deaths, often by cancer, of most of the early band's lineup. The group was formed in Sydney in 1976 by ex-
Buffalo
guitarist Peter Wells and -- with the additions of former
Buster Brown
vocalist Angry Anderson, guitarist Mick C**ks, bassist Ian Rilen, and drummer Dallas "Digger" Royal -- made its public bow on New Year's Eve at the local club Chequers, which several years earlier launched the career of
AC/DC
. Chiefly inspired by
the Rolling Stones
and
the Faces
, Rose Tattoo's ferocious, ear-splitting sound quickly earned a devoted following among Sydney area pubgoers, and in 1978 the group signed to Albert Productions; its debut single, "Bad Boy for Love," was written by Rilen, who left the lineup prior to the record's release. Anderson's onetime
Buster Brown
bassist Geordie Leach was recruited for Rose Tattoo's self-titled debut LP; after nearly three years of relentless touring, a period that saw Aussie guitar hero Lobby Loyde briefly replace Leach on bass, they issued the follow-up,
Assault & Battery
, in 1981.
After a tour of Europe that saw them hailed as the loudest band to play London's Marquee Club since
Led Zeppelin
, Rose Tattoo returned to Australia to begin work on their third album; with new guitarist Robin Riley replacing
C**ks
, they issued Scarred for Life in 1982, subsequently touring the U.S. in support of
Aerosmith
and
ZZ Top
. However, over the course of 1983 Wells,
Royal
, and
Riley
all left the group, with the remaining duo of Anderson and Leach recruiting guitarists Greg Jordan and John Meyer along with drummer Scott Johnston to record 1984's Southern Stars. Leach then exited to join Wells,
Royal
, and
Riley
in the short-lived Illustrated Men; Anderson and Johnston continued on as Rose Tattoo, enlisting guitarist Tim Gaze and bassist Andy Cichon for 1986's Beats from a Single Drum. Anderson finally mounted a solo career soon after, as did Wells. After years of substance abuse,
Royal
died in 1991.
At the request of longtime fans
Guns N' Roses
, Anderson, Wells,
C**ks
, Leach, and new drummer Paul DeMarco re-formed Rose Tattoo in 1993 to open for the Gunners on their Australian tour; the reunion proved brief, however, and upon completing the tour each member returned to his solo endeavors. The same lineup, with original bassist Ian Rilen replacing Leach, re-formed yet again in 1998 for the
All Hell Breaks Loose!!
tour; by the following year, Leach had returned to the fold once more. The live album 25 to Life arrived in fall 2000, followed by the studio effort Pain, featuring a lineup of Anderson, Wells,
Riley
, and DeMarco along with bassist Steve King, in 2002. Sadly, founding members Peter Wells and Ian Rilen both died of cancer in 2006; yet Rose Tattoo carried on, over 30 years after the band first formed, to release Blood Brothers in 2007 (the same year that Lobby Loyde would die in Melbourne after battling lung cancer), with a lineup featuring Anderson, returning guitarist Mick C**ks, King, DeMarco, and guitarist Dai Pritchard. But then, guitarist
C**ks
died of cancer in December of 2009; guitarist Robin Riley and bassist Geordie Leach have now reportedly returned to the band's lineup, which still includes longtime vocalist Angry Anderson, drummer DeMarco, and guitarist Pritchard. ~ Jason Ankeny, Rovi
full bio
Selected Discography
Similar Artists