We created Pandora to put the Music Genome Project directly in your hands
It's a new kind of radio –
stations that play only music you like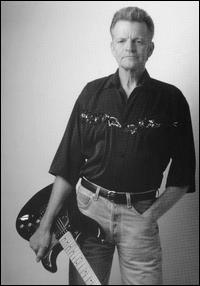 People who also like this
An only child, born in Dallas and raised in Waxahachie, TX to a swing bandleader father (Pinky Dawson), Ronnie Dawson launched his musical career while still in his teens. Forming a band, Ronnie Dee and the D Men, he won a talent contest at the Big D Jamboree in Dallas ten weeks in a row. He signed with
Gene Vincent
's manager, Ed MacLemore and came close to achieving success as a rockabilly guitarist/singer. His first two singles, "Action Packed" b/w "I Make the Love" and "Rockin' Bones," (credited to "The Blonde Bomber-Ronnie Dawson") sold well regionally and resulted in a contract with Dick Clark's label, Swan, and an appearance on National Bandstand. His sides for Swan were well received, but cast Dawson as a countrified teen idol, rather than a rockabilly wildcat. Dawson's new success came to a halt when the late-'50's payola scandal forced Clark to close the record company, leaving Dawson without a label. Dawson made a few unsuccessful attempts to salvage his career, including a 1961 single for Columbia, "Do Do Do" b/w "Who's Done Been Here," credited to the fictional character Commonwealth Jones. Limited to a sideman position, Dawson toured with
the Light Crust Doughboys
and played drums on Paul & Paula's "Hey Paula" and Bruce Chanel's "Hey Baby."
A member of the Dallas-based Levee Singers in the 1960s, he performed with a country-rock band, Steelrail, in the 1970s and '80s and recorded commercial jingles for Hungry Jack pancakes, Jax beer, and Cici's pizza.
Although he remained little-known in his native country, Dawson was hailed as a rock pioneer in England. Signing with the British No Hit label in 1986, he recorded three impressive albums: Monkey Beat!, Rockinitis, and
Just Rockin' & Rollin'
. The label also released a compilation of his earlier recordings, Rockin' Bones. Dawson recorded a live album, Live! at the Continental Club, in Austin, TX, in January 1998. In October 1998, he returned to the recording studio to record
More Bad Habits
(released in 1999), his first studio recording in the United States in nearly three decades.
His mid-'80s rediscovery led to Dawson's name and songs winding up in a variety of places. In 1995, Dawson made a triumphant appearance on Late Night with Conan O'Brien. 1998 was a watershed year for the Blonde Bomber, in addition to recording an album, his song "Yum, Yum, Yum" was featured in Mike Nichols' film Primary Colors and Izzy Stradlin of
Guns n' Roses
recorded his tune "Up Jump the Devil." The following year two songs from
More Bad Habits
were included in the film Simpatico. His tour for
More Bad Habits
was announced as his last rockabilly tour, although he continued to perform at festivals and special concert events. In 2002, Dawson was diagnosed with throat cancer and fans in the U.S. and abroad held benefit concerts to help him pay for medical costs. The Blonde Bomber finally succumbed on September 30, 2003. He was 64. ~ Craig Harris & Wade Kergan, Rovi
full bio
Selected Discography
Similar Artists