We created Pandora to put the Music Genome Project directly in your hands
It's a new kind of radio –
stations that play only music you like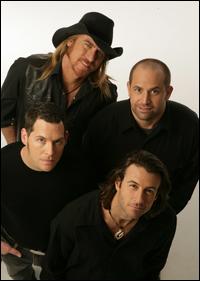 People who also like this
Roger Clyne & The Peacemakers
Arizona-bred singer/songwriter Roger Clyne first made a name for himself while fronting
the Refreshments
during the post-grunge heyday of the '90s. "Banditos" was the quartet's biggest hit, an invitingly cheeky pop anthem that splashed the group's Southwestern-tinged music across mainstream and college radio during the summer of 1996. True national success fell short for the band, however, and
the Refreshments
called it quits in 1998 after two albums on the Mercury label. Clyne retreated to his Southwestern abode in Arizona to reflect, found himself tinkering around with Americana and Latin influences, and began playing acoustic shows around his hometown of Tempe. Soon, he and several veterans of the local scene grouped together as Roger Clyne & the Peacemakers.
Embracing his reflective side, not to mention his country influences (which had made themselves known on
the Refreshments
' sophomore album, The Bottle & Fresh Horses), Clyne molded a new musical creation. He, along with former
Refreshments
drummer P.H. Naffah, ex-Dead Hot Workshop guitarist Steve Larson, bassist Danny White, and ex-
Gin Blossoms
guitarist Scott Johnson, introduced a twangy hard rock on 1999's Honky Tonk Union. Released on the band's own label, Emma Java Recordings, the album debuted in the Top Ten of the Billboard Internet Sales charts (the Peacemakers would repeat this feat with their subsequent five releases, making them the only independent band to ever do so). Shows throughout the Southwest and Mexico kept the band busy -- busy enough to issue a top-notch live album, Real to Reel, in fall 2001.
Clyne took his lyrical poetics a step further for the band's second studio effort. Sonoran Hope & Madness, which was released in February 2002, combined a sultry mix of country and folk while sifting through Clyne's visions of nature encumbered by human recklessness.
Americano
followed in 2004, featuring a slimmed-down band (Johnson had since left to join the reunited
Gin Blossoms
) whose rugged take on heartland rock had grown steadily more cohesive since its late-'90s debut. Following those recording sessions, White left the group to pursue work as a Nashville producer and was replaced by former Gloritone bassist Nick Scropos.
The new lineup immediately hit the road, and the band released one of its more raucous shows as
Live at Billy Bob's
in 2005 before issuing the Four Unlike Before EP the following year.
No More Beautiful World
, which toned down the band's rollicking style in favor of mariachi beats and humorous narratives, was released in 2007. That winter, the Peacemakers decamped to Mexico to write and record a wealth of material in eight straight days. Daily video installments broadcast their efforts on the Internet, allowing the group's audience to watch the eight songs take shape.
Turbo Ocho
collected the resulting tunes (along with three others) and was released in the spring of 2008, marking Larson's last appearance with the group. Guitarist Jim Dalton replaced him in early 2009, and the new lineup unveiled itself on the road, touring heavily for two years before releasing
Unida Cantina
in 2011. ~ MacKenzie Wilson & Andrew Leahey, Rovi
full bio
Selected Discography
Similar Artists