Free personalized radio that
plays the music you love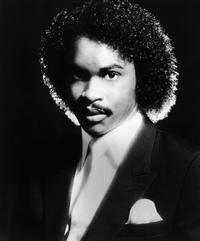 People who also like this
Innovative funkster Roger Troutman was the master of the talk box -- an effects unit that created robotic-sounding vocals through the simultaneous use of a piano-like interface and a breath controller (breath tube). What James Jamerson did for the bass,
Jimi Hendrix
for the guitar, and
Stevie Wonder
for the harmonica, Troutman did for the talk box. As a member of
Zapp
, a band that included his brothers Larry, Lester, and Tony, and recording under the solo moniker of Roger, he helped define and give life to a difficult-to-play instrument that was previously used for gimmicky effects and, as played by others, was basically devoid of personality. With his winning smile and charming playfulness, Troutman was a favorite on stage and record. He'd often bring his talk box along on radio interviews, treating the listeners to his amazing skill.
Born November 29, 1951, in Hamilton, Ohio, Troutman developed his talent in the thriving Dayton R&B/soul/funk scene of the '70s along with
the Ohio Players
and others. As a protégé of
Parliament
-
Funkadelic
's
George Clinton
, and with Troutman's talk box vocals up front,
Zapp
had several hits for Warner Bros. Records during the '80s: "More Bounce to the Ounce" (number two R&B for two weeks, fall 1980), "Be Alright" (number 26 R&B, late 1980), "Dance Floor" (number one R&B, summer 1982), "Doo Wa Ditty (Blow That Thing)" (number ten R&B, fall 1982), "I Can Make You Dance" (number four R&B, summer 1983), "Heartbreaker" (number 15 R&B, fall 1983), the funk/pop music legends tribute "It Doesn't Really Matter" (number 41 R&B, fall 1985), the classic "Computer Love" (number eight R&B, late 1986), "Ooh Baby Baby" (number 18 R&B, fall 1989), and Zapp & Roger's "Mega Medley" (number 30 R&B, summer 1993).
Like his mentor
Clinton
, who recorded for several labels at the same time under different monikers, Troutman recorded simultaneously as Roger, releasing albums and hit singles on Warner Bros. and its subsidiary label, Reprise: a cover of the Gladys Knight & the Pips/
Marvin Gaye
hit "I Heard It Through the Grapevine" (number one R&B for two weeks, fall 1981), "Do It Roger" (number 24 R&B, late 1981), "In the Mix" (number ten R&B, spring 1984), a cover of
Wilson Pickett
's "In the Midnight Hour" featuring
the Mighty Clouds of Joy
(number 34 R&B, spring 1984), "I Want to Be Your Man" (number one R&B, number three pop, fall 1987), "Thrill Seekers" (number 27 R&B, early 1988), "(Everybody) Get Up" (number 19 R&B, fall 1991), "Take Me Back" (number 37 R&B, early 1992), "Slow and Easy" (number 18 R&B, fall 1993), and the remix of "Computer Love" featuring
Shirley Murdock
and
Charlie Wilson
(number 65 R&B). Troutman also guested on "Boom! There She Was" by the group
Scritti Politti
(number 53 pop, summer 1988).
In the mid-'80s, Troutman opened a state-of-the-art recording studio in Dayton called Troutman Sound Labs. Working with singer
Shirley Murdock
and
the Ohio Players
' Sugarfoot, Troutman recorded material whose resulting vinyl LP releases had pristine, almost CD-quality clarity before there were CDs.
Murdock
had hits with "No More" (number 24 R&B), "As We Lay" (number five R&B, fall 1986), "Go on Without You" (number five R&B, early 1987), "Husband" (number five R&B, summer 1988), "In Your Eyes" (number seven R&B, summer 1991), and "Stay with Me Tonight" (number 34 R&B, fall 1991). Sugarfoot's late-'80s Warner Bros. LP Sugar Kiss is a favorite of funk connoisseurs.
As the hits waned, the Troutman brothers opened a housing business headed by their brother Larry that in the '90s, according to published reports, filed for Chapter 11 bankruptcy, owing over three million dollars in debt and over $400,000 in delinquent taxes.
During the late '90s, Troutman enjoyed a renaissance. Zapp & Roger's hits were sampled by a slew of rap and hip-hop artists including
Hammer
,
2Pac
,
Dru Hill
,
Dr. Dre
,
Kris Kross
,
Blackstreet
,
Janet Jackson
,
the Notorious B.I.G.
,
H-Town
,
Ice Cube
,
Redman
,
EPMD
,
Ralph Tresvant
, and
Snoop Dogg
. Troutman was spotlighted on
Johnny Gill
's 1997 single "It's Your Body." On the morning of April 25, 1999, however, Troutman was found shot behind the alley of his Roger Tee Enterprises. Witnesses reported seeing a man in a black car leave the scene of the crime. His brother Larry, a former
Zapp
member, was found fatally shot in a Lincoln sedan crashed against a tree seven blocks from the studio. The county coroner ruled the shootings a murder/suicide. Roger Troutman died at age 47 on April 25, 1999, at Good Samaritan Hospital in Dayton, Ohio. Roger Troutman's last two tracks, "Party Time" and "Nuthin' but a Party," appeared on the compilation United We Funk from Major Label/Pyramid/Rhino. The following year, Thump Records released Tribute to Roger Troutman, which featured hip-hop and R&B songs that sampled and showcased Troutman's work. ~ Ed Hogan
full bio
Selected Discography
Similar Artists
Don't have a Pandora account? Sign up
Already have a Pandora account? Log In