We created Pandora to put the Music Genome Project directly in your hands
It's a new kind of radio –
stations that play only music you like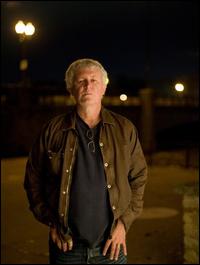 People who also like this
Robert Pollard & Doug Gillard
What made
Guided by Voices
' rise from underground curios to indie superstars in the early '90s so noteworthy was that vocalist/guitarist Robert Pollard was also a teacher, an uncommon occupation for rock & roll idols. Pollard was born on October 31, 1957, in Dayton, Ohio. As a child, he was groomed by his father to become a professional athlete, but in college he realized that music meant more to him than sports. Pollard formed
Guided by Voices
in Dayton in 1983 while working part-time at an elementary school. Also consisting of Paul Comstock (guitar/piano), Mitch Mitchell (bass), and Eric Payton (drums),
Guided by Voices
released their first EP, Forever Since Breakfast, in 1986. Pollard's love for British Invasion records, as well as an admiration for progressive rock and
R.E.M.
's murky jangle, sculpted the band's early LPs, all of which Pollard, his brother, and the group's manager financed by requesting a loan from the Dayton Public Schools Credit Union.
Although Pollard remained at the helm,
Guided by Voices
had a continuously changing lineup in the '80s and '90s. A firm believer in the artistic qualities of "lo-fi" production, Pollard also has an ear for accessible albeit quirky pop, and when both sides converged on 1994's
Bee Thousand
, many critics began to chant his name. On
Bee Thousand
, Pollard's songwriting finally reached its potential, and the band's initial post-punk experimentation was toned down for hook-laden college rock such as "I Am a Scientist." The group was suddenly thrust into the mainstream, appearing briefly on MTV and acquiring the kind of glowing accolades from corporate magazines often given to established alternative bands like
R.E.M.
and
Nirvana
.
Pollard quit his teaching job, and the group performed on the Lollapalooza tour. A year later,
Guided by Voices
recorded 60 tunes in a 24-track studio; however, Pollard wasn't pleased with the results. At first uncomfortable with the songs' "hi-fi" sound, Pollard returned to the studio to finish the album, recording much of
Under the Bushes Under the Stars
in two days. In 1996, Pollard released his solo debut,
Not in My Airforce
. He continued to record albums on his own and with
Guided by Voices
until 2004, when he broke up the band and carried on solo. Two solo EPs,
Zoom
and
Bubble
, were released in 2005, with the albums
From a Compound Eye
and
Normal Happiness
following the next year.
Silverfish Trivia
kicked off a prolific amount of subsequent releases in the spring of 2007.
Like a man on a mission, Pollard made 2007 a hallmark year, releasing
Crickets
, the final installment of the career-spanning
Fading Captain Series
, one album each from his side projects (Acid Ranch, Airport 5,
Circus Devils
, and
the Takeovers
), and two solo albums (Standard Gargoyle Decisions and Coast to Coast Carpet of Love -- released the same day, no less). He also started his own record label, Prom Is Coming, on which
Silverfish Trivia
was the first release. Continuing with his "more is better" approach, by the end of January 2008 he had already released his first album of the year, Superman Was a Rocker, and Robert Pollard Is Off to Business followed closely after, in June.
Pollard then slowed the pace some, at least relatively speaking, waiting until 2009 to release
Crawling Distance
(January) and
Elephant Jokes
(August). Following roughly the same pattern, his next record,
We All Got Out of the Army
, was released in February of 2010, followed by
Moses on a Snail
in June. Working with longtime collaborator Todd Tobias, Pollard got off to a quick start in 2011, releasing
Space City Kicks
in January and
Lord of the Birdcage
in May. Ever busy, Pollard resurfaced early in 2012 with
Mouseman Cloud
, a set of rough-edged songs that emphasized wordplay over melody, followed by the slightly more psychedelic Jack Sells the Cow in September of the same year. Pollard's nineteenth solo outing, they typically enigmatic
Honey Locust Hony Tonk
, arrived in July of 2013. ~ Michael Sutton, Rovi
full bio
Selected Discography
Similar Artists