We created Pandora to put the Music Genome Project directly in your hands
It's a new kind of radio –
stations that play only music you like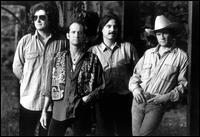 People who also like this
Playing a pop-friendly brand of country-rock indebted to
the Eagles
, Restless Heart was one of the most popular country bands of the late '80s and early '90s, scoring numerous hits on the country charts and a few major successes on adult contemporary radio as well. The band first got together in 1984 at the behest of producer/songwriter Tim DuBois, who wanted some musicians to demo a batch of material that walked the line between country and pop. Drummer/vocalist John Dittrich, pianist Dave Innis, bassist/vocalist Paul Gregg, and guitarist Greg Jennings were initially joined by singer Verlon Thompson, and the demo sessions went so well that the group decided to stay together and pursue a record deal. They signed with RCA in 1983, at which point Thompson was replaced by lead singer Larry Stewart, a demo vocalist Innis knew from Belmont College in Nashville.
Restless Heart's self-titled debut album was released in 1985 and contained three Top Ten hits: "I Want Everyone to Cry," "(Back to The) Heartbreak Kid," and "Til I Loved You." The 1986 follow-up,
Wheels
, was their true breakthrough release, topping the country charts and producing four number one hits: "That Rock Won't Roll," the ballad "I'll Still Be Loving You" (also a number three adult contemporary hit), "Why Does It Have to Be (Wrong or Right)," and "Wheels." 1988's Big Dreams in a Small Town was a successful follow-up, giving the band six consecutive chart-toppers thanks to its first two singles, "A Tender Lie" and "The Bluest Eyes in Texas"; its title track and "Say What's in Your Heart" also went Top Five. The title of 1989's
Fast Movin' Train
was an apt metaphor for the band's career, as it spawned two more Top Five hits in the title track and "Dancy's Dream."
Stewart left the group for a solo career in 1990; he later scored a big hit with "Alright Already," but never quite matched it. Meanwhile, Gregg and Dittrich split lead vocal duties on 1992's
Big Iron Horses
, which gave them another crossover smash with "When She Cries"; it went Top Ten country, hit number two adult contemporary, and just missed the pop Top Ten. Innis left the band in 1992, and the remaining trio watched "Tell Me What You Dream" become their first adult contemporary chart-topper in 1993. However, after 1994's
Matters of the Heart
, they decided to disband. Jennings joined
Vince Gill
's band, while Dittrich worked with the Buffalo Club. 1998 saw a Restless Heart reunion -- minus Innis -- that resulted in four new tracks for that year's
Greatest Hits
compilation, as well as a tour with
Gill
. ~ Steve Huey, Rovi
full bio
Selected Discography
Similar Artists