We created Pandora to put the Music Genome Project directly in your hands
It's a new kind of radio –
stations that play only music you like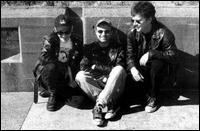 People who also like this
Sometimes they are mistaken for a queercore band like labelmates
Pansy Division
, but one listen to the Queers' adolescent-boy-who-never-grew-up lyrics ("she got no tit," "I'm really goo-goo over you/I'm mentally retarded too," "she's my Burger King Queen," etc.) will dispel that misconception. While some of their songs border on sexism and homophobia, they are simply too goofy and good-natured to mean any harm with their left-back-four-grades, dumb-a** shtick. Formed in 1982, this New Hampshire group ambled their way through the 1980s, recording a few singles and compilation tracks along the way, most of which were collected on Lookout's
A Day Late and a Dollar Short
. Before recording their first full-length studio album, Grow Up, the group finally settled on a permanent lineup consisting of singer/guitarist Joe King/Queer, drummer Hugh O'Neill, and bassist B-Face. Grow Up was released on a small English label called Shakin' Street, which promptly went belly up after only 1,000 copies were pressed.
Screeching Weasel
frontman Ben Weasel got Lookout label owner Larry Livermore to sign the Queers, and in 1993 Lookout released the Ben Weasel-produced
Love Songs for the Retarded
.
Love Songs
was followed by a yearly salvo of bubblegum punk, from 1994's Beat Off to 1996's magnum opus Don't Back Down, the best late-'70s-era
Ramones
album
the Ramones
never recorded. After a long bout with brain cancer, O'Neill died on January 21, 1999; Later Days and Better Lays, issued that spring, assembled unreleased Queers material recorded during his tenure with the band. B-Face next left the band, and after signing with Hopeless Records, the Queers went through various lineups as King remained the only constant. 2000's Beyond the Valley... marked the first studio album since O'Neill's death and, somewhat fittingly, was a relatively darker album than the rest of the band's prior catalog. A string of releases followed in the early 2000s, including the Today EP, Live in West Hollywood, and
Pleasant Screams
. A split with Manges appeared in 2003, and the classics collection Summer Hits, Vol. 1 was issued the next fall. Recorded live during a two-day stint at Bernie's Distillery in Columbus, OH, the Queers next released the aptly titled album Weekend at Bernie's in May 2006. The record featured King joined by
Teen Idols
' Philip Hill on bass and Dave Tervino on drums. That same year, Asian Man Records began reissuing several of the band's classic albums (remixed and remastered), starting with 1993's
Love Songs for the Retarded
. In February 2007, and also via Asian Man, the Queers released
Munki Brain
, their first album of new material since 2002, while the band commemorated their 25th year of immaturity with the DVD The Queers Are Here, which was chock-full of live footage, interviews, and music videos. The reissues continued into 2007. ~ Kembrew McLeod, Rovi
full bio
Selected Discography
Similar Artists