Free personalized radio that
plays the music you love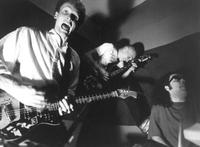 People who also like this
The Presidents Of The United States Of America
The Presidents of the United States of America were one of the most unlikely success stories of the post-grunge alternative rock scene in Seattle. Where the rest of their Seattle brethren traded in heavy guitars and heavy angst, the Presidents rejected torment for humor, writing short, simple, and absurd punk songs that relied more on goofy attitude than sludgy riffs and tormented screams. It was a formula that worked, as the group's self-titled debut album became a double-platinum record much to the surprise of many critics, music industry insiders, and the band itself.
Childhood friends Chris Ballew (lead vocals, two-string basitar) and Dave Dederer (three-string guitbass, backing vocals) played in a number of groups and projects before forming the Presidents of the United States of America around 1990. The duo recorded a demo tape, which began circulating around the Seattle musical community and, in the process, earned them a cult following. Drummer Jason Finn, a member of
Love Battery
, saw the duo in 1991 and, after a few years of persuading, joined the band in 1993. Within a year after Finn joined, the Presidents became one of the most popular bands in Seattle. In the spring of 1994, they released their eponymous debut album on Pop Llama Records. The record became an independent hit and the band attracted the attention of major record labels; the group eventually signed with Columbia Records, who re-released the Presidents' debut in the spring of 1995. By this time, Finn had left
Love Battery
to become a full-time President.
The Presidents of the United States of America became a hit in the summer of 1995, when MTV and modern rock radio began airing "Lump" frequently. "Lump," followed by the radio hit "Kitty" in the fall and the radio/video hit "Peaches" in the spring of 1996, propelled the album to a surprise Top Ten double-platinum status. The band quickly capitalized on their sudden success by releasing their second album, The Presidents of the United States of America: II, in November of 1996.
In December of 1997, the Presidents called it quits after Chris Ballew left the band to spend more time with his family. A farewell concert followed in February 1998 and a rarities album, Pure Frosting, was released in March. Rumors of a possible reunion and collaboration with fellow Seattle resident
Sir Mix-a-Lot
(under the collective name Subset) floated around in 1999, but the project never materialized. However, the band did reconvene in 2000 (without a rapper) under the officially shortened moniker the Presidents and released their third album, Freaked Out and Small. Another long hiatus preceded the release of Love Everybody in 2004. That same year the band reissued their debut album on their own label in "Super Bonus Thrillpack" edition featuring a DVD. Late in 2007 the Presidents announced a new album, These Are the Good Times People, would be delivered in the spring of 2008. Sporadic activity, including occasional one-off gigs, followed into the 2010s, although Ballew spent more time on his children's music project, Caspar Babypants, before a sixth album, Kudos to You!, arrived in 2014. ~ Stephen Thomas Erlewine
full bio
Selected Discography
Similar Artists
Don't have a Pandora account? Sign up
Already have a Pandora account? Log In