We created Pandora to put the Music Genome Project directly in your hands
It's a new kind of radio –
stations that play only music you like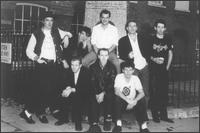 People who also like this
By demonstrating that the spirit of punk could live in traditional Irish folk music, the Pogues were one of the most radical bands of the mid-'80s. Led by
Shane MacGowan
, whose slurred, incomprehensible voice often disguised the sheer poetry of his songs, the Pogues were undeniably political -- not only were many of their songs explicitly in favor of working-class liberalism, but the wild, careening sound of their punk-injected folk was implicitly radical. While the band was clearly radical, they also had a wickedly warped sense of humor, which was abundantly clear on their biggest hit, the fractured Christmas carol "Fairy Tale of New York." The group's first three albums --
Red Roses for Me
,
Rum Sodomy & the Lash
,
If I Should Fall from Grace with God
-- were widely praised in both Britain and America, and by 1988 they had earned substantial cult followings in both countries. Yet
MacGowan
's darkly romantic, wasted lifestyle, which was so key to their spirit and success, ultimately proved to be their downfall. By the end of the decade, he had fallen deep into alcoholism and drug addiction, forcing the band to fire him if they wanted to survive. The Pogues carried on without him in the early '90s, playing to a slowly shrinking audience, before finally disbanding in 1996.
Shane MacGowan
, an Irish punk inspired by
the Clash
, formed the Pogues in 1982 after playing with the London-based punk band the Nipple Erectors, a group that was later called the Nips.
MacGowan
met Spider Stacy in a London tube station, where Stacy was playing a tin whistle. The two began working together, drafting former Nip Jim Fearnley to play guitar. Naming themselves Pogue Mahone -- a Gaelic term meaning "kiss my a**" -- the trio began playing traditional Irish tunes in London pubs and streets, eventually adding Jem Finer (banjo, guitar), Andrew David Ranken (drums), and Cait O'Riordan (bass) to make it a full band. As the group developed into a sextet, they added
MacGowan
's original songs to their repertoire, and began earning a reputation as a wild, drunken, and exciting live act. Shortening their name to the Pogues, the group released an independent single, "Dark Streets of London," in early 1984 and supported
the Clash
on their summer tour. By the fall, they had signed with Stiff Records and had released their acclaimed debut
Red Roses for Me
.
Red Roses for Me
was a critical hit, establishing the Pogues as one of the most vital, and certainly one of the most political, bands in Britain. Early in 1985, they added guitarist Philip Chevron and recorded
Rum Sodomy and the Lash
with producer
Elvis Costello
. The album was an underground success and was widely praised, especially for
MacGowan
's songwriting -- not only in the U.K., but also in the U.S., where they were becoming college radio staples. Instead of following
Rum Sodomy and the Lash
with a new album, the Pogues took nearly a full-year hiatus from recording, releasing the Poguetry in Motion EP in 1986 and appearing in Alex Cox's film
Straight to Hell
in 1987. By 1988, O'Riordan had left the band to marry
Costello
, and she was replaced by Darryl Hunt; banjoist Terry Woods was also added to the band. Early in 1988, they signed to Island Records and released the Steve Lillywhite-produced
If I Should Fall from Grace with God
later that year. The album became the group's biggest hit, generating the number two U.K. single "Fairytale of New York," which featured vocalist
Kirsty MacColl
.
Although the Pogues were peaking in popularity,
Shane MacGowan
's relentless drug and alcohol abuse was beginning to cripple the band. Although neither the 1989 hit single "Yeah Yeah Yeah Yeah Yeah" or
Peace and Love
(also 1989) were noticeably affected by his excesses,
MacGowan
missed the Pogues' prestigious opening dates in 1988 for
Bob Dylan
and stalked the stage like a madman during a pivotal
Saturday Night Live
performance. By 1990s
Hell's Ditch
, Spider Stacy and Jem Finer began singing the bulk of the Pogues' material. Despite positive reviews,
Hell's Ditch
was a flop, and the group wasn't able to support the record because of
MacGowan
's behavior. Consequently, he was asked to leave the band in 1991; three years later, he returned with a new band, the Popes. For subsequent tours,
the Clash
's
Joe Strummer
filled in as lead vocalist, but by the time the band recorded their comeback
Waiting for Herb
in 1993, Stacy had become the permanent vocalist.
Waiting for Herb
was kindly reviewed, yet was also ignored, as was 1995's
Pogue Mahone
. In 1996, the Pogues decided to disband after 14 years in the business, though in 2001 the group reunited (with
Shane MacGowan
in tow) for a short British tour. The band continued to tour sporadically, releasing a box set of rarities (Just Look Them Straight in the Eye and Say....POGUE MAHONE!!) in 2008 and a live album (
The Pogues in Paris: 30th Anniversary Concert
) in 2012. ~ Stephen Thomas Erlewine, Rovi
full bio
Selected Discography
x
Track List:
Just Look Them Straight In The Eye And Say... Pogue Mahone!!
Disc 1
Disc 2
Disc 3
Disc 4
Disc 5
Similar Artists