We created Pandora to put the Music Genome Project directly in your hands
It's a new kind of radio –
stations that play only music you like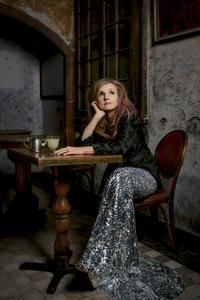 People who also like this
The youngest of seven children, Patty Griffin grew up hearing her mother sing while doing housework and her grandmother's family sing on the front porch at night. In addition to listening intently to
the Beatles
, Griffin was fascinated by the music of
Bruce Springsteen
and
Rickie Lee Jones
. Although she acquired a $50 guitar and began writing songs at the age of 16, Griffin gave little thought to a career as a musician. After living in Florida for nearly two years, she moved to Boston and married, and while her husband encouraged her to perform, she spent most of her time waitressing. However, upon her divorce in 1992, Griffin found herself on her own and began to perform in Boston-area coffeehouses. She quickly attracted attention to her well-crafted songs and gutsy vocals.
After Griffin's over-produced demo tape reached the ears of a talent scout, she was encouraged to re-record it with just her guitar and voice. Within six months, the redone demo resulted in Griffin being offered a recording contract with A&M. The tape was later released as Griffin's debut, Living with Ghosts, and inspired comparisons with recordings by
Tori Amos
and
Alanis Morissette
. Griffin's second album, Flaming Red, was released in 1998. Both records showcased the poetic lyricism, bluesy alto vocals, and melodic guitar picking that defined her style and brought her admiration. Four years later, Griffin appeared with a modest acoustic effort entitled 1,000 Kisses. While touring in support of the album in 2002, Griffin documented behind-the-scenes footage for a future DVD collection. A Kiss in Time, which appeared in October 2003, included coverage of the tour, interviews, and two full-length videos. A separate disc capturing Griffin's live stint at Nashville's Ryman Auditorium accompanied the package.
Artists such as
Lisa Germano
,
Emmylou Harris
, and Buddy & Julie Miller joined Griffin for the recording of her fourth album, Impossible Dream, which appeared in April 2004. Almost three years later, Children Running Through was released. Griffin's sixth full-length outing, the gospel-infused Downtown Church, a collection of traditional and gospel materiel, was recorded in Nashville's Downtown Presbyterian Church, and arrived in January 2010. She wrote two selections for the album as well. That same year she appeared on
Robert Plant
's Band of Joy recording and tour. Griffin's next album of new original studio material, American Kid, appeared in early May of 2013; the album debuted at 36 on the Billboard Top 2000. That fall, her shelved 2000 album Silver Bell -- it got lost in record-label mergers of the time -- saw its long overdue release. ~ Craig Harris
full bio
Selected Discography
Similar Artists