We created Pandora to put the Music Genome Project directly in your hands
It's a new kind of radio –
stations that play only music you like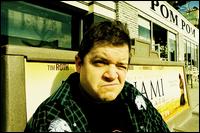 People who also like this
Comedian Patton Oswalt translated his acerbic, defiantly absurdist sensibility into surprising mainstream success, enjoying a thriving television and film career without dulling his edge. Born January 27, 1969, in Portsmouth, Virginia, Oswalt initially pursued a career as a writer, and also worked as a paralegal before performing his first open-mike gig at the Washington, D.C., club Garvin's in the summer of 1988. He began his professional standup career the following year and in 1992 relocated to San Francisco, continuing to hone his craft in nightclubs. After collaborating with fellow comedian Blaine Capatch on
Food for Thought
, a series of short films for the cable network Comedy Central, Oswalt settled in Los Angeles in 1995, working as a writer on Fox's fledgling sketch program
Mad TV
and appearing on
HBO Comedy Showcase
. In 1996, he made his feature film debut with a brief role in the comedy flop
Down Periscope
. Cast as nerdy Spence Olchin in the long-running CBS sitcom
The King of Queens
in 1998, Oswalt worked alongside veteran standups Kevin James and the great Jerry Stiller, solidifying his rising profile via roles in the features
Magnolia
,
Man on the Moon
, and Zoolander. In 2003, he even expanded into the world of comic books, writing the DC one-shot
JLA: Welcome to the Working Week
.
Oswalt's debut standup LP,
Feelin' Kinda Patton
, appeared on
Michael Penn
and
Aimee Mann
's United Musicians imprint in 2004. The indie rock fanzine Chunklet also released an unedited and unexpurgated two-disc version of the same performance as 222. In the fall of 2004 Oswalt teamed with Zach Galifianakis,
Brian Posehn
, and
Maria Bamford
as the Comedians of Comedy, a collective that eschewed traditional standup clubs in favor of indie rock venues. A feature film documenting their tour followed in 2005, as did a six-episode Comedy Central series. In 2007, Oswalt appeared in a number of voice acting roles, including Jim in an episode of
SpongeBob SquarePants
and Rémy, the star of the Pixar film
Ratatouille
. In 2007 he released
Werewolves and Lollipops
, with
My Weakness Is Strong
following in 2009.
Finest Hour
arrived in 2011, with Patton discovering "The Miracle of Sweatpants."
Tragedy Plus Comedy Equals Time
followed in 2014 and focused on the highs and low of parenting with tracks like "I Am a Great Dad" and "I Am an Awful Dad," respectively. ~ Jason Ankeny, Rovi
full bio
Selected Discography
Similar Artists