Free personalized radio that
plays the music you love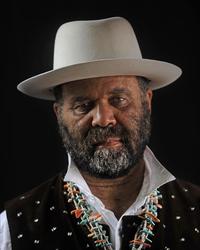 People who also like this
Bluesman Otis Taylor never skirted tough subject matter in a career that took him from the Folklore Center in Denver to a brief stay in London, England, to retirement from music in 1977, to being a successful antiques broker and, since 1995, back again to the blues. Taylor's 2001 CD White African (Northern Blues Music), featuring Kenny Passarelli (bass, keyboards) and
Eddie Turner
(lead guitar), became his most direct and personal statement about the experiences of African-Americans. He addressed the lynching of his great-grandfather and the murder of his uncle. Brutality became his concern in songs about a black man executed in the '30s for a murder he did not commit, and about a father who could not afford doctor's bills and and had to sit powerless watching his son die. Faith met Taylor's irony in his vision of Jesus as a mortal man who looked for ways to avoid his crucifixion and in his take on romantic infidelity among common men.
Taylor's first album, Blue-Eyed Monster, and 1997's When Negroes Walked the Earth also cast an uneasy spell on the blues world. Some of Taylor's music would feel comfortable on the back roads of the Delta in the '20s and '30s. It came as no surprise when he interpreted
Charley Patton
's "Stone Pony" on a Shanachie Records compilation, Screamin' and Hollerin' the Blues: New Acoustic Recordings of Pre-War Blues Classics, which also featured popular blues performers such as
Alvin Youngblood Hart
,
John Hammond
,
Duke Robillard
, and
Corey Harris
. At other times, Taylor's music was so uncompromisingly contemporary in its outlook on social injustices that he seemed more akin to South African poet and activist Stephen Biko.
Taylor was born in Chicago in 1948. After his uncle was murdered, his family moved to Denver for apparent safe haven. Taylor took an interest in blues and folk music at Denver's Folklore Center. After hearing
Etta James
sing "All I Wanna Do Is Make Love to You," Taylor knew he liked the blues. He then went to the Folklore Center, where he heard the banjo, country blues, and
Mississippi John Hurt
. He also liked
Junior Wells
and
Muddy Waters
and got into folk-blues and Appalachian music. He learned to play guitar, banjo, and harmonica. Only several decades later did he begin to understand the ties of the blues and its instrumentation to the savannah of western Africa.
By his mid-teens, he formed his first groups -- the Butterscotch Fire Department Blues Band and later, the Otis Taylor Blues Band. He briefly stayed in England in 1969 to pursue a record deal with Blue Horizon, but negotiations failed and he returned to the U.S. In the '70s, he took up mandolin. He decided to leave music behind in 1976 and started a successful career as an antiques broker. After much prodding from Passarelli, Taylor returned to music in 1995. He first played a benefit concert. Then he started to play again both solo and with his band in America and Europe. In the summer of 2000, he received a composition fellowship from the Sundance Institute in Park City, Utah, and hobnobbed with film celebrities at the Sundance Film Festival.
His When Negroes Walked the Earth was released on Shoelace Records that same year. Taylor began participating in "Writing the Blues" in the Blues in the Schools program, sponsored by the National Blues Foundation, and he started writing and performing new songs in 2001. White African and Respect the Dead were released by Northern Blues in 2001 and 2002, respectively, followed by Taylor's first release on Telarc Blues, Truth Is Not Fiction, in 2003. A second album on Telarc, Double V, came out in 2004, followed by Below the Fold in 2005 and Definition of a Circle two years later. The revelatory Recapturing the Banjo appeared in 2008, again from Telarc. The dark and jazzy Pentatonic Wars and Love Songs followed in 2009. Taylor wasted no time and followed it up with 2010's Clovis People, Vol. 3 (volumes one and two do not exist). The musicians he assembled for the date are a testament to his ever-widening and eclectically expansive musical vision: daughter
Cassie Taylor
plays bass, and famed electric guitarist
Gary Moore
plays lead guitar; pedal steel guitarist Chuck Campbell and jazz cornet player
Ron Miles
are also featured on the recording. In 2010, after complaining of back pain, Taylor saw a doctor, who concluded he had a softball-sized cyst on his liver and spine. After scheduling surgery, he immediately entered a studio to cut new tracks "just in case." Thankfully, Taylor survived, and completed work on Contraband, which was issued by Telarc in early 2012. For 2013's My World Is Gone, the songwriter enlisted a larger band that included jazz trumpeter
Ron Miles
and Mato Nanji, lead guitarist from the band
Indigenous
. ~ Robert Hicks
full bio
Selected Discography
Similar Artists
Don't have a Pandora account? Sign up
Already have a Pandora account? Log In