Free personalized radio that
plays the music you love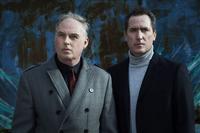 People who also like this
Orchestral Manoeuvres In The Dark
Featuring the core members Paul Humphreys and Andy McCluskey, the Liverpudlian synth pop group Orchestral Manoeuvres in the Dark formed in the late '70s. Humphreys and McCluskey began performing together in school, playing in the bands VCL XI, Hitlerz Underpantz, and the Id. After the Id split in 1978, McCluskey was with Dalek I Love You for a brief time. Once he left Dalek, he joined with Humphreys and Paul Collister to form Orchestral Manoeuvres in the Dark. The group released its first single, "Electricity," on Factory Records; the record led to a contract with the Virgin subsidiary DinDisc. Using their record advance, McCluskey and Humphreys built a studio, which allowed them to replace their four-track, and recorded with drummer Malcolm Holmes (formerly of the Id) and
Dave Hughes
(formerly of Dalek I Love You).
In 1980, the group released its self-titled debut album. Organisation appeared the same year, which featured the U.K. Top Ten single "Enola Gay"; Hughes was replaced by Martin Cooper after its release. The band's next few albums -- Architecture & Morality (1981), Dazzle Ships (1983), and Junk Culture (1984) -- found the band experimenting with its sound, resulting in several U.K. hit singles. Recorded with two new members, Graham and Neil Weir, Crush, their most pop-oriented album, found more success in America than in Britain as the single "So in Love" hit number 26 on the charts. "If You Leave," taken from the Pretty in Pink soundtrack, was their biggest American hit, climbing to number four in 1986. The Pacific Age was released the same year, yet America was the only country where it was popular. Shortly after its release, the Weir brothers left the band, followed by Holmes, Cooper, and Humphreys. McCluskey continued with the band, releasing Sugar Tax in 1991; in the meantime, Humphreys formed the Listening Pool.
Orchestral Manoeuvres in the Dark returned with Liberator in 1993. It was followed three years later with Universal, which saw Humphreys return for some co-writing credits. By the late '90s, McCluskey had moved into artist management, while Humphreys revived the OMD name for occasional shows.
A full-blown reunion came in 2006, including both McCluskey and Humphreys plus Holmes and Cooper. Initially, OMD toured around a full-album performance of Architecture & Morality, and released one of their performances as Live: Architecture & Morality and More. Finally, in 2010, the new album History of Modern appeared on the 100% label. The album English Electric followed in 2013, with a guest appearance from
Propaganda
's lead vocalist, Claudia Brücken. ~ Stephen Thomas Erlewine
full bio
Selected Discography
Similar Artists
Don't have a Pandora account? Sign up
Already have a Pandora account? Log In