We created Pandora to put the Music Genome Project directly in your hands
It's a new kind of radio –
stations that play only music you like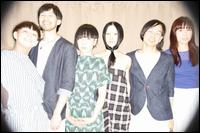 People who also like this
Plenty of distinguishing characteristics separate OOIOO from the herd. First, you could mention the fluorescent body paint they wear on-stage. Or perhaps the demographics of their lineup: four Japanese women. Or their music, a furious amalgam of rhythmic guitars, patternless vocals, and energetic effects. The frontwoman of the group is the irrepressible Yoshimi P-We, the talented and multifaceted percussionist from
the Boredoms
. In this incarnation, she sings and plays guitar, but not in the way
John Lennon
, Kurt Cobain, or even
Kim Gordon
would. Her role in the group is as the main energizer, the street light around which the other moth-like noises revolve, flutter, bump, and find themselves redirected in a million different ways. It's next to impossible to describe "their sound," because -- by design -- it rarely follows consistent patterns. Suffice to say they're one of the most dynamic bands on the underground circuit -- not in the way a mid-level purchasing director would be described as dynamic, but in the way a ballistic missile would. They're bursting forth with excitement and vivacity in the way few humans, in few art forms, can. Plus, they're fun with a capital PH. Their self-titled debut album was released in the U.S. by Kill Rock Stars in 1998; their subsequent albums,
Feather Float
and
Kila Kila Kila
, were issued in the States by Birdman Records.
Gold and Green
was released domestically in the States by Thrill Jockey in 2005. Issued in 2006,
Taiga
, which means "big river" in Japanese and "forest" in Russian, was, aptly enough, inspired by nature.
OOEYEOO
, an album of remixes by
Boredoms
mastermind
Eye
, arrived in spring 2007. The same lineup that recorded
Taiga
-- Yoshimi, guitarist Kayan, bassist Aya, and drummer Ai -- regrouped for 2009's
Armonico Hewa
, whose title was a mix of Spanish and Swahili words meaning "air in a harmonious state." Their next studio outing would appear in 2014 with Gamel, an album loosely inspired by Javanese gamelan music. ~ Kieran McCarthy, Rovi
full bio
Selected Discography
Similar Artists