Free personalized radio that
plays the music you love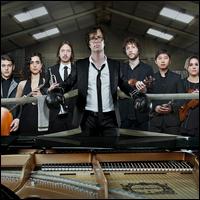 People who also like this
Singer/pianist Ben Folds (born September 12, 1966, in Winston-Salem, North Carolina) is best known as the leader of the power pop trio Ben Folds Five, but has also struck out on his own as a solo artist. Despite playing in bands in high school, his musical career didn't really get off the ground until the late '80s, as a bassist for Majosha (the outfit issued such obscure releases as Party Night: Five Songs About Jesus and Shut Up and Listen to Majosha). Proving his multi-instrumental talents, Folds also played drums as a session musician in Nashville. After relocating to New York, Folds started acting again (he'd previously done some theater in high school) and signed a publishing deal with Sony Music.
Moving back to North Carolina, in 1994 Folds formed Ben Folds Five, a trio that also included bassist Robert Sledge and drummer Darren Jessee. Whereas most alternative bands of the '90s specialized in distorted teen-angst rock, the guitarless trio was a refreshing break from the norm, its sound akin to such past power popsters as
Todd Rundgren
,
Jellyfish
, and early
Joe Jackson
, and such piano-driven artists as
Billy Joel
and early
Elton John
. But like punk bands, Ben Folds Five put on a high-energy, blistering live show. The band was signed to the independent Caroline Records shortly afterward, resulting in its self-titled debut one year later. Due to airings of the humorous anthem "Underground" (which poked fun at the politics of the punk/alternative scene) on MTV's
120 Minutes
) and constant touring, quite a buzz was stirring for the band by the time of its second album.
Released in 1997, Whatever and Ever Amen was pure pop perfection -- easily one of the year's best releases and perhaps the best power pop release of the '90s. The band's songwriting and sound had improved even further, as evidenced by such gems as "One Angry Dwarf and 200 Solemn Faces," "Fair," "Kate," and "Battle of Who Could Care Less," plus their whimsical tribute to breakups, "Song for the Dumped." But it was the ballad "Brick" that broke the band commercially -- unlike the majority of Ben Folds Five's material, which was upbeat, the song contained melancholic music and vocals, as the lyrics told the story of a teenage couple who decides to get an abortion (it has been speculated that the tale was autobiographical for Folds). The single didn't hit until several months after the album was released, which meant that the band stayed on the road for well over a year, playing with such notables as
Dave Matthews
,
Beck
, and as part of the 1997 H.O.R.D.E. festival -- earning Whatever platinum status.
While 1998 didn't see a new studio album by the band, Ben Folds Five's former label issued a 16-track rarities collection (Naked Baby Photos) as Folds released his first solo album, Volume 1, under the pseudonym Fear of Pop. Although the album went largely unnoticed, it included the song "In Love," which included overly dramatic vocals from none other than Captain Kirk himself,
William Shatner
(comparable in approach to
Shatner
's must-hear 1968 album, The Transformed Man) and which was performed on
The Conan O'Brien Show
shortly after the album's release. Ben Folds Five regrouped with 1999's The Unauthorized Biography of Reinhold Messner, which was a more mature work than its predecessors, although the energetic leadoff single, "Army," showed that Folds' humorous approach hadn't dulled at all.
Folds officially went solo again in 2001 with Rockin' the Suburbs. A series of EPs followed, with the new long-player Songs for Silverman dropping in 2005. He released Supersunnyspeedgraphic: The LP in 2006, followed by the full-length Way to Normal in 2008. In 2009 Folds contributed two songs to University A Cappella!, a collection of covers of some of Folds' best tracks by various university groups. Lonely Avenue, a collaboration with British novelist/essayist Nick Hornby (
High Fidelity
,
About a Boy
), arrived in 2010, followed by the 18-track Retrospective: The Best Imitation of Myself 1995-2011, which represented Folds' first U.S. career overview. The compilation included a new song with the original Ben Folds Five, who re-formed the following year and released their fourth studio album, The Sound of the Life of the Mind, followed by Ben Folds Five Live in 2013. In 2015, Folds released So There, an eight-track collection of chamber pop originals that he recorded with New York City-based classical sextet
yMusic
. The album also included a performance of his "Concerto for Piano and Orchestra," with the Nashville Symphony. ~ Greg Prato, Rovi
full bio
Selected Discography
Similar Artists
Don't have a Pandora account? Sign up
Already have a Pandora account? Log In