Free personalized radio that
plays the music you love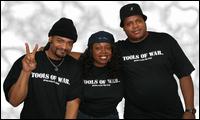 People who also like this
Newcleus contributed a true electro classic in "Jam on It," a Top Ten R&B hit that has been immortalized on hundreds of hip-hop mixtapes and often included in even techno DJs' sets. The origins of the group lay in a 1977 Brooklyn DJ collective known as Jam-On Productions, which included Ben "Cozmo D" Cenac, his cousin Monique Angevin, and her brother Pete (all of whom were teenagers and still in high school). Many members -- MCs as well as DJs -- came and went as the group played block parties all over the borough, and by 1979, the group centered around Cenac, his future wife Yvette "Lady E" Cook, Monique Angevin, and her future husband, Bob "Chilly B" Crafton. The foursome named their group Newcleus as a result of the coming together of their families.
By this time, Cenac had begun to accumulate a collection of electronic recording equipment, and the quartet recorded a demo tape of material. With several minutes left at the end of the tape, Newcleus recorded a favorite from their block parties, with each member's vocals sped up to resemble the Chipmunks. The track, "Jam-On Revenge," impressed producer Joe Webb more than the other Newcleus material, and it became the group's first single, released in 1983 on Mayhew Records. A huge street success, the track became known unofficially as "the Wikki-Wikki song" (after the refrain); when it was re-released later that year on Sunnyview, it had become "Jam On Revenge (The Wikki-Wikki Song)."
The single hit Top 40 on the Billboard R&B chart in 1983, and its follow-up, the more popular "Jam on It," reached the Top Ten and crossed into the Hot 100, where it peaked at number 56. "Computer Age (Push the Button)" was a more mature single, with accomplished rapping and better synthesizer effects, and it also hit the R&B Top 40. The first Newcleus LP, Jam on Revenge, was a bit of a disappointment, and their second album, Space Is the Place, did even more poorly upon release in 1984. Without a single as noteworthy as "Jam On Revenge" or "Computer Age," and with the advent of
Run-D.M.C.
's organic, rock-influenced approach to rap music, Newcleus faded quickly, though the group sporadically recorded and performed, and compilations such as Destination: Earth - The Definitive Newcleus Recordings kept their output in circulation. Chilly B died of a stroke in 2010. ~ John Bush
full bio
Selected Discography
Similar Artists
Don't have a Pandora account? Sign up
Already have a Pandora account? Log In