We created Pandora to put the Music Genome Project directly in your hands
It's a new kind of radio –
stations that play only music you like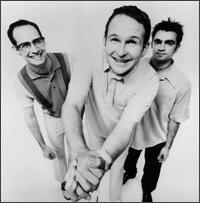 People who also like this
The self-proclaimed nerd rock band Nerf Herder was formed in 1994 by singer/guitarist
Parry Gripp
, drummer Steve "The Cougar" Sherlock, and bassist Charlie Dennis, taking their name from an epithet in one of the many spats between Princess Leia and Han Solo in The Empire Strikes Back. Based in Santa Barbara, CA, the trio specialized in post-grunge punk-pop full of geeky humor, similar to
Weezer
crossed with the nervy edge of
the Descendents
and the snarky pop culture obsession of
the Dead Milkmen
.
Nerf Herder caught a break when a demo of their song "Sorry" fell into the hands of
Lagwagon
singer
Joey Cape
, who was looking for bands to sign to his small independent My Records label. Initially approached only about including "Sorry" on a various-artists compilation, Nerf Herder ended up recording a ten-song eponymous debut for the label, with
Cape
co-producing. In 1996, a goofy ode to "Van Halen" became a local smash thanks to a San Francisco modern rock radio station, which helped spread the song around the country. Nerf Herder landed a major-label deal with Arista, which remastered and re-released the
Nerf Herder
album later that year; meanwhile, "Van Halen" became a modern rock radio success around the country. Nerf Herder next recorded the theme song to the WB TV series Buffy the Vampire Slayer, and faded from the public eye thereafter.
When they resurfaced, it was with a new bassist, Pete Newbury (formerly of
Ten Foot Pole
), and a second guitarist, Dave Ehrlich;
Newbury
quit soon after, though, to concentrate on his job as a radiologist, and was replaced by Marko 72 for a European tour. Marko also departed quickly, and the band recorded its second album, How to Meet Girls, with Justin Fisher on bass. Completed in the summer of 1999, the record was finally released in early 2000 by the indie label Honest Don's.
American Cheese
next appeared in August 2002, followed by more touring with yet another new bassist, Ben Pringle. Nerf Herder temporarily called it quits the following year; however, 2005 found the three original members already reuniting to work on a new album, and IV arrived three years later. ~ Steve Huey, Rovi
full bio
Selected Discography
Similar Artists