We created Pandora to put the Music Genome Project directly in your hands
It's a new kind of radio –
stations that play only music you like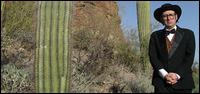 People who also like this
Despite his appalling comic timing, muddled delivery, and clichéd material, standup Neil Hamburger nevertheless emerged as one of the most acclaimed and name-checked comedians of his generation; like
Lenny Bruce
before him, he was a hipster icon whose trailblazing riffs defied convention at every turn, transcending the confines of hilarity with kamikaze recklessness. Prior to his ascendance, comedians were expected not only to be funny, but insightful as well; Hamburger changed all that forever, in the process earning so much respect from cultural tastemakers that his records appeared exclusively on only the most rarefied indie-rock labels.
A native of Culver City, California, Hamburger began his comedy career on the advice of his psychiatrist, who suggested performing as a means of therapy; packing his belongings into a Los Angeles storage locker, he mounted a relentless touring schedule, claiming to play upwards of 360 nights a year yet somehow earning a nagging reputation for last-minute cancellations. Following a gig in Needles, California, Hamburger was approached by manager Art Huckman, a longtime show biz svengali whose past protégés included
Rich Little
and the Ritz Brothers; with Huckman at the helm, the comedian's career blossomed, and in 1993 he appeared on the Great Phone Calls compilation. Hamburger's solo debut, the Looking for Laughs EP, followed a year later, and after issuing Bartender, The Laugh's on Me on the tiny Planet Pimp label, he moved to Drag City for his 1996 full-length debut, appropriately titled
America's Funnyman
.
With 1998's
Raw Hamburger
, he shifted gears, working "blue" for the first time; ever the restless innovator, Hamburger then turned topical for the follow-up EP, Pays Tribute to Diana, a heartfelt homage to the late People's Princess. Although the constant grind of touring ultimately forced the breakup of the comic's marriage, he forged ahead, expanding his itinerary to include international gigs; for 1999's Left for Dead in Malaysia, he even faced a non-English speaking Kuala Lumpur crowd. Hamburger remains the iron horse of comedy, touring non-stop and releasing new albums like 2000's
Inside Neil Hamburger
and 2002's religious comedy LP
Laugh Out Lord
. The year 2005 saw the release of
Great Moments at Di Presa's Pizza House
, while 2006 saw him launch the Internet video series
Poolside Chats with Neil Hamburger
. In 2007 he released Hot February Night, a live album sourced from shows opening for
Tenacious D
; that same year he joined the cast of the late-night cable television show
Tim and Eric Awesome Show, Great Job!
In 2008, Sings Country Winners arrived, doing just what it said on the cover, followed by 2014's First of Dismay, which featured live comedy along with musical numbers, all of them backed by the "Too Good for Neil Hamburger Band." His connection to Amarillo Records honcho Gregg Turkington remains unclear. ~ Jason Ankeny, Rovi
full bio
Selected Discography
Similar Artists