We created Pandora to put the Music Genome Project directly in your hands
It's a new kind of radio –
stations that play only music you like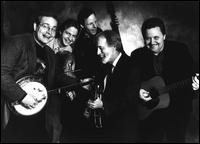 People who also like this
The Nashville Bluegrass Band
The conventional bluegrass categories of traditional and progressive are of little help in describing the music of the Nashville Bluegrass Band. Made up of top Nashville musicians who have devoted themselves to cultivating a unique group sound rather than displaying their individual talents, the band performs classic bluegrass numbers and contemporary songs from the likes of
Gillian Welch
and
Kate Campbell
with equal ease. They have been especially noted for their close harmony singing and, almost alone among bluegrass bands, for their investigation of the African-American roots of many modern harmony styles.
The four original members of the Nashville Bluegrass Band -- banjoist Alan O'Bryant, guitarist and vocalist Pat Enright, mandolinist Mike Compton, and bassist Mark Hembree -- came together as a backing band for a 1984 tour featuring country veterans
Vernon Oxford
and
Minnie Pearl
. All were veterans of the Nashville scene and had been involved with top bluegrass bands in the 1970s; Enright was a member of the progressive supergroup the Dreadful Snakes. The Nashville Bluegrass Band was signed to the Rounder label, and their debut,
My Native Home
, was released in 1985. Produced by Béla Fleck, the album announced its innovative leanings with its very first track, an a cappella version of
Sister Rosetta Tharpe
's "Up Above My Head."
My Native Home
became one of several releases on which the band turned to black gospel, specifically to the virtuoso harmony sounds of the decades on either side of World War II. The all-gospel 1987 album To Be His Child included several pieces of African-American origin, and in 1991 the Nashville Bluegrass Band released an entire album,
Home of the Blues
, that featured the Fairfield Four as guest vocalists. Such a project was unheard-of in the virtually all-white world of bluegrass, but it made the Nashville Bluegrass Band into a major touring attraction well beyond the usual festival circuit. Sometimes sharing the stage with the Fairfield Four, they appeared in major U.S. folk venues and became the first bluegrass band to perform in the People's Republic of China. They performed in nearly 20 countries on five continents.
The band experienced several changes in membership: Hembree was replaced by Gene Libbea and Compton by
Roland White
, and fiddle stalwart Stuart Duncan appeared on every album beginning with 1986's
Idletime
. Still, they maintained a consistent sound and experienced strong success over a series of albums in the late '80s and much of the 1990s. They moved to the Sugar Hill label with 1988's New Moon Rising (which featured
Peter Rowan
and
Maura O'Connell
), and worked mostly with
Jerry Douglas
as producer in the '90s. After the Grammy-nominated 1998 album American Beauty, the group seemed ready to wind up a stellar career as Libbea and
White
departed for other projects. But the Nashville Bluegrass Band got a second wind after Enright became one of the voices of the Soggy Bottom Boys, the fictional old-time singing trio led onscreen by George Clooney in the unlikely hit film O Brother, Where Art Thou? (the others were
Dan Tyminski
and
Harley Allen
). Compton and Duncan also appeared on the film's soundtrack, and Compton began performing as part of the Down from the Mountain band that backed the variety of bluegrass headliners that appeared as part of a successful concert tour and documentary of that name. From these events emerged a reconstituted Nashville Bluegrass Band, now with bassist Dennis Crouch (a student of the group's original bassist, Mark Hembree) and Compton on mandolin once again. The group undertook major tours in 2002 and 2003. ~ James Manheim, Rovi
full bio
Selected Discography
Similar Artists