Free personalized radio that
plays the music you love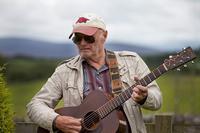 People who also like this
A former art and photography teacher, Michael Chapman emerged from the folk scene in Yorkshire, England, gaining a reputation as one of England's finest original singer/songwriters. A deal with the fledgling Harvest label (EMI's "underground" boutique) led to the release of Rainmaker in 1969. The album featured the support of
Rick Kemp
(who went on to provide bass for Chapman for many years) and Danny Thompson. Window followed in short order, with Fully Qualified Survivor completing a debut triptych that sent waves of critical appreciation through the music industry, with influential BBC disc jockey John Peel supporting Chapman whenever possible. Sales, however, did not match the critical acclaim for Chapman's work, leaving Fully Qualified Survivor as a high point, with "Postcards of Scarborough" generally being the one cut most often remembered when Chapman is discussed.
After the release of Wrecked Again, Chapman parted company with Harvest, choosing to sign to Decca's Deram subsidiary, where he altered course somewhat, adding electric guitar and harder rhythms to his work. The first result, Millstone Grit, is a somewhat confused affair, with Chapman's trademark gloomy writing mixed with a couple of lively instrumentals, some almost experimental work, and the country-styled "Expressway in the Rain." Deal Gone Down, more coherent, and Pleasures of the Street, a live set, followed.
Don Nix
produced Savage Amusement, which reworked a couple of earlier songs; the album's title would be used in the mid-'80s for a band featuring Chapman and Kemp.
Chapman's Decca deal ended in 1977, and he began an association with Criminal Records the following year; both labels released versions of The Man Who Hated Mornings. Chapman then turned his hand to the release of a guitar instruction record entitled Playing Guitar the Easy Way in 1978. He continued to gig and record consistently, varying styles and sounds, sometimes working with a full group, more often working with Kemp alone. After the release of Heartbeat in 1987, Chapman experimented with self-released albums, and as of the 1997 release of Dreaming Out Loud, he was issuing albums at the rate of one every two years, continuing to attract high praise, if not great sales.
His prolific release schedule continued unabated in the 21st century with both song-based and instrumental albums as well as numerous reissues of his catalog by various labels. The first notable entry in the new millennium was the instrumental offering Americana in 2000, which showcased Chapman's fascination with and mastery of Southern blues, folk, and ragtime jazz styles. It was followed by a second collection -- this one with masterful slide entries as well -- entitled Americana II in 2002. A self-released album, 2005's Plaindealer featured the guitarist playing solo or in small groups, performing original songs and folk standards. It was later reissued by Honest Jon's.
Chapman toured with
the No-Neck Blues Band
and
Jack Rose
in 2006. Drenched in acid folk and free improvisation, he returned to England inspired and recorded the double-disc Words Fail Me, done completely solo on acoustic and electric guitars. He ripped through utterly rearranged older songs as well as brave new compositions in a 100-minute, live-in-the-studio performance with no overdubs. On 2007's The Wedding Band, Chapman returned to all-electric guitar; it was his first digitally recorded offering, while 2008's Sweet Powder was drenched in sounds that reflected the blues, folk, and modern country music the guitarist loved, from
R.L. Burnside
to Steve Eagles to
Neil Young
and more. On 2010's ambitious Wry Tree Drift, named after an old mine near his farm, he played both electric and acoustic guitars and engaged in performing folk ballads, languid instrumental dubs, dark electric blues, and solo guitar workouts.
In 2011, Chapman released the instrumental double set Train Song: Guitar Compositions, 1967-2010, which featured all newly recorded material. Later in the year the guitarist issued his most expansive and controversial album, The Resurrection and Revenge of the Clayton Peacock (titled after a track on
John Fahey
's 1965 offering The Transfiguration of Blind Joe Death). It featured two side-long improvisations involving drones, delay, and loop effects. It was issued by Blast First Petite as the first part of a trilogy. Its second part, Pachyderm, was released in 2012, followed by The Polar Bear in 2014; Blast First Petite announced plans to reissue the trilogy as a special box set. Also in 2012, a tribute album entitled Oh Michael, Look What You've Done: Friends Play Michael Chapman was released by Tompkins Square and featured performances from
Hiss Golden Messenger
,
Meg Baird
, Black Twig Piers,
Maddy Prior
, and more. In 2015, Chapman returned with a new album of guitar pieces, Fish. January 2017 saw the release of 50, which found Chapman embracing past and present, with guest artists including celebrated British folksinger
Bridget St. John
and gifted indie rock guitarist
Steve Gunn
. ~ Steven McDonald & Thom Jurek
full bio
Selected Discography
Similar Artists
Don't have a Pandora account? Sign up
Already have a Pandora account? Log In