Free personalized radio that
plays the music you love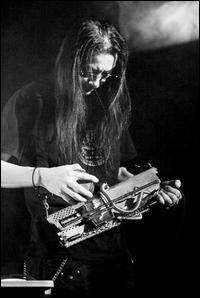 People who also like this
There is no need to argue: Merzbow stands as the most important artist in noise music. The favorite moniker of Japanese
Masami Akita
appears on hundreds of albums. The name comes from German artist Kurt Schwitters' famous work Merzbau, which he also called The Cathedral of Erotic Misery.
Akita
's choice reflects his fondness for junk art (through Schwitters' collage method) and his fascination with ritualized eroticism, namely in the form of fetishism and bondage. All these elements constitute the Merzbow persona.
Akita
was born in Tokyo in 1956. He grew up with psychedelic rock and began to play the guitar in progressive rock cover bands, in particular with drummer
Kiyoshi Mizutani
, who would remain a frequent collaborator. After high school,
Akita
studied literature and visual arts in college. There he discovered free jazz and studied seriously the ideas of Dada and the surrealists (Salvador Dali remained a big influence).
Akita
gradually withdrew himself from the rock scene and began experimenting in his basement with broken tape recorders and feedback.
In 1979,
Akita
created his own cassette label, Lowest Arts & Music, and released the first of many albums, Metal Acoustic Music. Infiltrating the then-burgeoning network of underground industrial music, Merzbow lined up one cassette after another, packaged in Xeroxed collage art. His harsh noise eschewed the primitive anger found on this scene (
Throbbing Gristle
, Man Is the B**tard) to reach a Zen state, calm inside the storm.
Mizutani
occasionally appeared on some of the raw material, as would other musicians (like Reiko.A), but in essence Merzbow is
Akita
and would always be. The artist/group made low-budget live appearances in Tokyo, but his main focus remained on his art production and his writing (he is erudite in 20th century art and the Japanese tradition of bondage).
In 1983,
Akita
's first LP, Material Action 2 (NAM), was released on Chaos/Eastern Works in Japan. Out of the mail-art network and into the specialty record shops, Merzbow began to attract some eyes and ears.
Akita
started a second label, ZSF Produkt, which put out dozens of 7"s, EPs, LPs, and more cassettes. By the late '80s, other record labels had begun to pay interest, namely the Australian Extreme. Collaborative (1988), an LP recorded with Achim Wollscheid, brought the Merzbow sound to more international listeners, and slowly
Akita
invaded other territories. By the mid-'90s, his reputation verged on the mythical. He toured Europe and the U.S., and had high(er)-profile releases on Extreme, RRR, and Alchemy.
In 1997, Extreme announced it was putting in production a 50-CD box set, Merzbox. It was finally released three years later. It includes 30 reissues dating as far back as 1979, and 20 discs' worth of unreleased material, and remains the biggest musical statement in the history of noise music. More widely available albums for Alien8 Recordings (Aqua Necromancer, 1998) and Tzadik (1930, 1998), combined with constant worldwide touring, have taken the artist out of mythical status and propelled him into the legendary. In the late '90s,
Akita
started to collaborate with other artists outside the Merzbow moniker, namely with
Mike Patton
(as Maldoror) and Otomo Yoshihide. Both a prolific composer and performer,
Akita
continued his string of Merzbow releases into the next century, including Frog (2001), V (2003), Merzbird (2004), the two-volume set Minazo (2006), Merzbear and Synth Destruction (2007), Dolphin Sonar (2008), and the multi-volume 13 Japanese Birds series issued monthly between January 2009 and January 2010. He followed this massive undertaking with Another Merzbow Records, released by the U.K's Dirtier Promotions imprint in April of 2010. Ever prolific, and with a huge backlog of archival material,
Akita
released ten collections in 2011, as well as an additional four live sets, and four more albums appeared in 2012, along with the box sets Merzphysics and Merzmorphosis. ~ François Couture
full bio
Selected Discography
Similar Artists
Don't have a Pandora account? Sign up
Already have a Pandora account? Log In