We created Pandora to put the Music Genome Project directly in your hands
It's a new kind of radio –
stations that play only music you like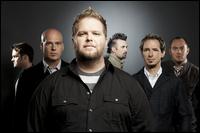 People who also like this
Although praise & worship band MercyMe was founded in 1994, vocalist
Bart Millard
says that the group's birth was a process God began in him during high school.
Millard
recalls, "My dad and my older brother were both football players. So naturally, that's what I wanted to do as well. But I broke both my ankles in a high school football game and that ended my career." Due to the injury,
Millard
was left with an elective class to fill and reluctantly joined the only available option: choir. With the prodding of his choir director, he was soon actively involved. During
Millard
's first semester in college, he was faced with the death of his father to cancer. The loss caused him to look for a change and a fresh start.
Millard
's youth pastor, who had recently moved from
Millard
's hometown of Greenville, TX, to Lakeland, FL, invited him to work with the youth praise band. He accepted the offer and moved at the end of his freshman year of college.
Millard
says that the praise band involvement marked "the first time I had ever done anything with a band -- just a local youth group who played for a Wednesday night service. But I fell in love with it immediately." It wasn't long after that
Millard
became friends with keyboardist Jim Bryson. In the summer of 1994, the two traveled to Europe as part of a praise team. The trip caused
Millard
and Bryson to consider full-time music ministry. In August of 1994, guitarist Mike Scheuchzer made the duo a trio. The three, who now lived in Oklahoma City, formed MercyMe. From there the group begin to attract local promoters and found themselves opening for
Audio Adrenaline
. Following this, the band moved to Nashville, TN, and then to Texas. Their concerts grew to 200 dates per year. Bassist Nathan Cochran and percussionist Robby Shaffer joined the group, turning it from a trio into a five-member band. MercyMe, with six independent projects to their credit, signed with INO Records and released
Almost There
in August 2001. In 2003, the group was nominated for the Favorite Contemporary Inspirational Artist at the American Music Awards. MercyMe released Undone in 2004 and Coming Up to Breathe in 2006. In September 2007, the band embarked on a tour to promote
All That Is Within Me
, which was released in November that same year. ~ Ashleigh Kittle, Rovi
full bio
Selected Discography
Similar Artists