We created Pandora to put the Music Genome Project directly in your hands
It's a new kind of radio –
stations that play only music you like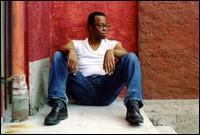 People who also like this
With his unique and recognizable style, pianist Matthew Shipp has worked and recorded vigorously from the late '80s onward, creating music in which free jazz and modern classical intertwine. He first became well known in the early '90s as the pianist in the David S. Ware Quartet, and soon began leading his own dates -- most often including Ware bandmate and leading bassist
William Parker
-- and recording a number of duets with a variety of musicians, from the legendary
Roscoe Mitchell
to violinist
Mat Maneri
, the latter another musician who began making a name for himself in the '90s. Through his range of live and recorded performances and unswerving individual development, Shipp has come to be regarded as a prolific and respected voice in creative music into the new millennium.
Born in the '60s and raised in Wilmington, Delaware, Shipp grew up around '50s jazz recordings. He began playing piano at the young age of five, and decided to focus on jazz by the time he was 12. Shipp played on a Fender Rhodes in rock bands while privately devouring recordings by a variety of jazz players. His first mentor was a man in his hometown named Sunyata, who was enthusiastic about a variety of study areas in addition to music. Shipp later studied music theory and improvisation under
Clifford Brown
's teacher Robert "Boisey" Lawrey, as well as classical piano and bass clarinet for the school band. After one year at the University of Delaware, Shipp left and took lessons with Dennis Sandole for a short time, after which he attended the New England Conservatory of Music for two years.
Shipp moved to N.Y.C. in 1984 and soon met bassist
William Parker
, among others. Both were playing with tenor saxophonist Ware by 1989. Meanwhile, Shipp had debuted as a recording artist in a duo with alto player
Rob Brown
on Sonic Explorations, recorded in November 1987 and February 1988. Shipp married singer Delia Scaife around 1990. He then went on to lead his own trio with
Parker
and drummers Whit Dickey and Susie Ibarra. Shipp has led dates for a number of labels, including FMP, No More, Eremite, Thirsty Ear, Silkheart. In 2000, he began acting as curator for Thirsty Ear's Blue Series. This excellent series hosted a number of Shipp's own recordings, as well as the recordings of
William Parker
,
Tim Berne
,
Roy Campbell
,
Craig Taborn
,
Spring Heel Jack
, and
Mat Maneri
. The following year saw the release of
Nu Bop
, an exploration into traditional jazz, followed closely by its 2003 counterpart,
Equilibrium
. In 2004 Shipp released
Harmony and Abyss
, a meditation on repetitive melodic and harmonic structures.
One
arrived in January 2006 and
Piano Vortex
followed a year later.
4D
, featuring Shipp on solo piano, was released by Thirsty Ear early in 2010. It was one of several recordings from the pianist in the initial years of the 21st century, which included a two-disc solo piano recital entitled Creation Out of Nothing: Live in Moscow on the SoLyd Records imprint, and the stellar trio set Night Logic, with
Joe Morris
and former
Sun Ra
saxophonist
Marshall Allen
on the Rogue Art label. Shipp kept up the pace in 2011, kicking off the year with the double-CD offering
Art of the Improviser
that showcased him in two different live settings: one solo and one in a trio with bassist Michael Bisio and drummer Whit Dickey. In the spring he released a duet recording with alto saxophonist
Darius Jones
entitled
Cosmic Lieder
on the AUM Fidelity label. In 2012 he re-formed the the trio with Bisio and Dickey for
Elastic Aspects
. Shipp entered into a prolific collaboration with saxophonist
Ivo Perelman
for a slew projects that year and 2013 included trios and quartets with various personnel to a duet, all issued by Leo Records. Titles include The Gift, The Clairvoyant, The Foreign Legion, A Violent Dose of Anything, Enigma, The Art of the Duet, Vol. 1, The Edge, and Serendipity. In the fall of 2013, Shipp released the solo piano offering,
Piano Sutras
, for Thirsty Ear. ~ Joslyn Layne & Thom Jurek, Rovi
full bio
Selected Discography
Similar Artists