We created Pandora to put the Music Genome Project directly in your hands
It's a new kind of radio –
stations that play only music you like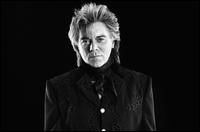 People who also like this
One of country's most historically minded new traditionalists, Marty Stuart was also one of the most eclectic, moving between honky tonk, rockabilly, country-rock, traditional country, and bluegrass. He was also one of the more flamboyant showmen, supporting his party-hearty image with a wardrobe of rhinestone-laden Nudie suits. Stuart was born in Philadelphia, Mississippi, in 1958 and grew up obsessed with country music. He learned guitar and mandolin as a child and by age 12 was performing with the bluegrass group the Sullivans. He soon met Lester Flatt bandmember
Roland White
, which led to an invitation to play a Labor Day gig in Delaware with the band in 1972. Flatt invited Stuart to join the band permanently and took responsibility for overseeing the teenager's continued education.
Stuart stayed with Flatt up until the legendary bluegrass master broke up his band in 1978 for health reasons; he passed away the following year. Stuart moved on, playing with fiddler
Vassar Clements
and guitarist
Doc Watson
while doing session work, and was invited to join
Johnny Cash
's backing band in 1980. In 1978 Stuart had released his first LP, With a Little Help from My Friends (re-released in 1992 as The Slim Richey Sessions), but in 1982 he stepped out to record a more high-profile solo album,
Busy Bee Cafe
, an informal jam session for Sugar Hill with guest spots by
Cash
,
Watson
, and
Earl Scruggs
, among others. The following year, he married
Cash
's daughter Cindy. He left
Cash
's band in 1985 to pursue a solo career. He signed with Columbia and released a self-titled label debut album in 1986. Despite a Top 20 country hit in "Arlene," the record didn't sell very well, and Columbia refused to issue his completed follow-up,
Let There Be Country
. Stuart's marriage also broke up in 1988, and he returned home to Mississippi to gather his wits.
Jerry Sullivan
invited him to rejoin the Sullivans as mandolinist, which recharged Stuart's confidence for a return to Nashville.
Stuart landed a deal with MCA in 1989 and released his label debut,
Hillbilly Rock
, later that year. This time he was more successful, landing a Top Ten hit with the title track and earning positive reviews from critics, who compared his sensibility to that of
Dwight Yoakam
. Released in 1991,
Tempted
was successful critically and commercially as well and spawned three Top Ten hits in the title cut, "Little Things," and "Burn Me Down." In the wake of Stuart's breakthrough, Columbia finally released
Let There Be Country
in 1992. Stuart also completed his official follow-up,
This One's Gonna Hurt You
, which featured a Top Ten hit in the title duet with
Travis Tritt
and became his first gold album. Though he'd earned a fervent following, Stuart found these successes hard to duplicate -- 1994's
Love and Luck
saw his sales slipping, and perhaps in response, MCA issued the hits and rarities compilation
The Marty Party Hit Pack
. That in turn led to a series of
Marty Party
concert specials on the Nashville Network. However, 1996's Honky Tonkin's What I Do Best failed to win the wide critical acclaim of its predecessors.
Stuart was already moving on to other concerns as well. He'd acquired an extensive collection of country memorabilia by that point and in 1996 won his first term as president of the Country Music Foundation (which oversees the Country Music Hall of Fame); he would serve in that capacity through 2002. He also remarried in 1997, to fellow country singer
Connie Smith
(who'd first made an impression on him during his teen years). When he returned to recording, it was in 1999 with The Pilgrim, a concept album based in country tradition, yet with a distinct progressive inclination. Despite strong reviews, it didn't sell well, and Stuart later parted ways with MCA. He went on to sign with Sony's Nashville division and released his label debut, simply titled
Country Music
, in the summer of 2003, followed by
Souls' Chapel
and
Badlands
in 2005. A live bluegrass record, Live at the Ryman, appeared early in 2006. Stuart returned to recording in 2010 with a fast-paced traditional honky tonk album called
Ghost Train: The Studio B Sessions
, recorded at RCA's legendary Nashville facility, his first release under a new deal with Sugar Hill Records. His second album for the label, 2012's
Nashville, Vol. 1: Tear the Woodpile Down
, was a follow-up of sorts to
Ghost Train
. ~ Steve Huey, Rovi
full bio
Selected Discography
Similar Artists