We created Pandora to put the Music Genome Project directly in your hands
It's a new kind of radio –
stations that play only music you like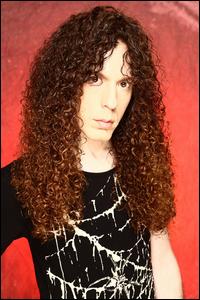 People who also like this
One of the ultimate '80s guitar shredders, Marty Friedman first made his name with the speed-burning virtuoso outfit
Cacophony
, but landed his most widely renowned gig as the lead guitarist of
Megadeth
during the thrash legends' greatest period of popularity. Friedman was born in 1962 and grew up in the Baltimore area; he began playing guitar at age 15 in a band called Deuce, shortly before his family moved to Hawaii. While in Hawaii, Friedman hooked up with a local band (which changed names and personnel fairly often) and recorded with them on three different albums. Friedman studied guitar in earnest, going so far as to explore ethnic music (particularly Asian and Middle Eastern) in search of new, exotic scales to incorporate into his lead playing. He initially connected with the shred-guitar label Shrapnel in 1981, but it wasn't until 1987 that he, along with friend
Jason Becker
, made an impact on the larger guitar community. The twin-guitar heroics of their debut album as
Cacophony
,
Speed Metal Symphony
, made an instant splash, and both took the opportunity to record the solo albums they'd been working on individually prior to the genesis of
Cacophony
. Friedman's solo debut,
Dragon's Kiss
, was released on Shrapnel in 1988, and it was stylistically similar to his
Cacophony
material. After one further
Cacophony
album, 1989's
Go Off!
, Friedman and
Becker
went their separate ways. Friedman joined
Megadeth
in late 1990, becoming their third lead guitarist in four albums; however, he managed to bring some stability to the position, remaining with the band for ten years. His debut with the band,
Rust in Peace
, demonstrated his immediate impact on the rest of the group, still standing as one of the most technically accomplished albums in all of thrash metal. His second album with
Megadeth
,
Countdown to Extinction
, was the band's popular breakthrough, making them one of the biggest heavy metal groups in the world. In 1992, Friedman capitalized on the group's popularity as an opportunity to do something different: he stunned metal fans by hooking up with new age star
Kitaro
for a reflective, Asian-tinged instrumental album titled
Scenes
, which also appeared on Shrapnel. Pleased with the results, Friedman continued in that vein with his second contemporary instrumental album, 1994's
Introduction
, which boasted an even stronger Japanese flavor; that year, he also married Chihiro. Friedman continued to pursue his solo career as an outlet for less aggressive sounds, releasing
True Obsession
in 1996. Friedman left
Megadeth
in 2000, about a year after the release of their Risk album. He released
Music for Speeding
in 2003, followed by an instructional video called 99 Secret Lead Guitar Phrases in 2006.
Loudspeaker
arrived in early 2007. ~ Steve Huey, Rovi
full bio
Selected Discography
Similar Artists