We created Pandora to put the Music Genome Project directly in your hands
It's a new kind of radio –
stations that play only music you like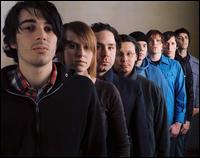 People who also like this
Margot & The Nuclear So And So's
The dreamy, bittersweet music of Margot & the Nuclear So and So's is primarily the work of singer/songwriter Richard Edwards, who formed the indie rock collective in his native Indianapolis. Named after the Margot Tenenbaum character in Wes Anderson's sophisticated comedy
The Royal Tenenbaums
, the band took root in 2004, when Edwards decided to flesh out his scenic chamber pop sound with help from guitarist Andy Fry, cellist Jesse Lee, pianist Emily Watkins, trumpeter Hubert Glover, drummer Chris Fry, percussionist Casey Tennis, and bassist Tyler Watkins.
The band's debut album,
The Dust of Retreat
, was issued on the local indie label Standard Recording in 2005. The picturesque, dozen-song set earned the band a loyal following, and Margot & the Nuclear So and So's signed with Artemis Records later that year. A remixed and remastered version of
The Dust of Retreat
was released in March 2006, but a series of label acquisitions (Artemis bought V2, Virgin Records effectively absorbed the band, and Capitol merged with Virgin) convinced the group to partner with another company instead. They relocated to the Epic roster in October 2007 while working on their sophomore release. After tracking approximately 25 songs, however, the band clashed with Epic over which songs to include in the final release. As a result, two versions of the album were released: Animal!, a vinyl and digital release of the band's preferred version, and
Not Animal
, a traditional CD release featuring those songs favored by the label.
After touring in support of the Animal! albums, Edwards relocated to Chicago and began pruning the band's lineup, eventually dissolving it altogether and rebuilding it from the ground up. Margot & the Nuclear So and So's thus became a six-piece band featuring Brian Deck on drums, Ronnie Kwasman and Erik Kang on guitars,
Cameron McGill
on keyboards, and Tyler Watkins on bass. Watkins and Kang had both played in an earlier version of Margot & the Nuclear So and So's, while the other three were Chicago-based musicians who joined the lineup in 2009. After building a makeshift recording studio in an abandoned movie theater, the six explored a lean, rock-influenced sound on Buzzard, which became the band's third album after its release in September 2010. In 2012 the band returned with Rot Gut, Domestic, a stylistically adventurous album exploring more guitar-driven '90s-styled rock and flirting with country & western influences. Fifth album Sling Shot to Heaven arrived in 2014, recorded entirely to analog tape in the band's home studio and released on their own label. ~ Andrew Leahey & MacKenzie Wilson, Rovi
full bio
Selected Discography
Similar Artists