We created Pandora to put the Music Genome Project directly in your hands
It's a new kind of radio –
stations that play only music you like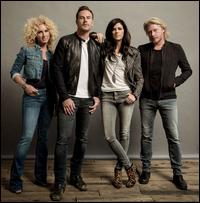 People who also like this
The country vocal quartet Little Big Town began with Kimberly Roads and Karen Fairchild, two Georgia natives who began singing together in college. Arkansas-born and Alabama-raised Jimi Westbrook, a friend of Fairchild's husband, joined them to make a trio, and the group was completed by the addition of Arkansan Phil Sweet in 1998. From the outset, Little Big Town devoted their sound to harmony and multiple lead vocals, a combination that made the band a hard sell at first. They finally landed a deal at Mercury Records, but it fell through due to disagreements about musical direction. In the wake of the success of
the Dixie Chicks
, however, Little Big Town suddenly seemed a more likely commercial proposition, and they were taken up by
the Dixie Chicks
' label, Monument Records, in 2000.
Recording sessions lasted longer than usual for a country release, but Monument finally issued the band's debut single, "Don't Waste My Time," in the winter of 2002. The song was on its way up the charts when its accompanying album,
Little Big Town
, arrived in May. Although the debut produced several minor hits, Little Big Town didn't become a superstar act until 2005, when
The Road to Here
yielded four Top 20 singles (including the ballad "Bring It On Home") and earned the group its first platinum record.
A Place to Land
followed in 2007 and netted three singles, none of which made it into the Top 30, but the band's profile continued to grow due to incessant touring and supporting acts from
Sugarland
to
Carrie Underwood
. Fairchild also guested with
John Mellencamp
on his album
Life Death Love and Freedom
. In May of 2010 "Little White Church" appeared as a single that peaked at number 14 on the Billboard country chart; in August of that year, Little Big Town's fourth studio album,
The Reason Why
, was released by Capitol. The band returned in 2012 with the single "Pontoon," which wound up topping Billboard's country charts. The band's fifth full-length album,
Tornado
, followed in September 2012. It was their first release to be produced by the ex-In Pursuit member Jay Joyce, and it became their highest placed album on the Billboard 200 up to that point, reaching number two. Joyce was retained for their next album's sessions and the resulting record,
Pain Killer
, appeared in October 2014, preceded by the single "Day Drinking." ~ William Ruhlmann, Rovi
full bio
Selected Discography
Similar Artists