Free personalized radio that
plays the music you love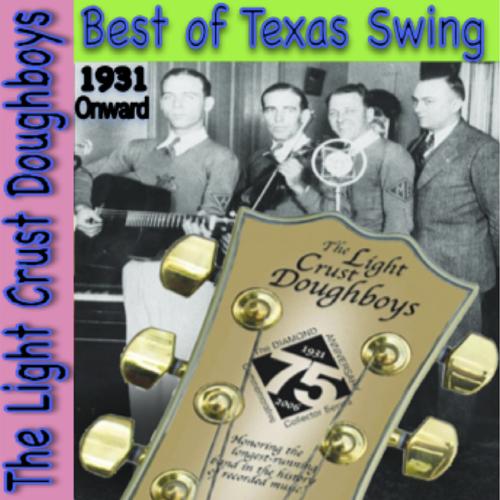 People who also like this
The Light Crust Doughboys
One of the original Western swing bands, the Light Crust Doughboys once featured the combined talents of Western swing's two most renowned figures,
Bob Wills
and
Milton Brown
. That lineup was unfortunately short-lived, due in large part to issues with the group's overly controlling manager,
W. Lee "Pappy" O'Daniel
(who would later become governor of Texas). However, even after all three of those figures were gone, the Light Crust Doughboys soldiered on, becoming one of the most popular pre-war Western swing bands in Texas; versions of the group continued to perform, off and on, right up to the turn of the millennium. The group that became the Light Crust Doughboys was formed in 1929 as the Wills Fiddle Band, when
Bob Wills
joined up with guitarist Herman Arnspiger in Fort Worth, TX. The duo began playing dances and radio shows, and hooked up with singer
Milton Brown
in 1930.
Brown
's brother Durwood soon joined the band as a second guitarist, and banjoist Clifford "Sleepy" Johnson arrived not long after. The group landed a regular radio gig in Fort Worth sponsored by the Aladdin Lamp Company, and accordingly changed their name to the Aladdin Laddies. That didn't last long, however; in 1931, the band landed their own morning show on a rival station, sponsored by Burris Mill, the makers of Light Crust Flour. Pappy O'Daniel managed the company at the time, and he convinced them to adopt Light Crust Doughboys as their new name. Still, O'Daniel disliked the group's music, dismissing it as "hillbilly"; he attempted to cancel the show after just two weeks, but popular demand kept the group on the air (as well as a deal with O'Daniel whereby the band members agreed to work in the flour mill). With their regular radio show and wide-ranging musical repertoire (country, blues, jazz, pop, gospel, and more), the Light Crust Doughboys became one of the most popular and widely exposed bands in Texas. Musicians like singer/yodeler Leon Huff, steel guitarist
Leon McAuliffe
, and banjoist Johnnie Lee Wills began playing with the group. Realizing he had a good thing on his hands, O'Daniel became the Doughboys' manager and sometime songwriter as well as the show's announcer; he first moved the Doughboys to a new station, and then landed their show on a syndicated radio network that spread their sound across the Southwest. But his refusal to allow the band to play gigs outside the radio show was frustrating to its members, who felt they weren't seeing enough money.
Wills
, Johnson, and the
Brown
brothers recorded a single for Victor in 1932 under the name the Fort Worth Doughboys, which was a precursor to
Milton Brown
leaving the group several months later.
Wills
replaced him with
Tommy Duncan
, but clashed frequently with O'Daniel, and wound up leaving himself in the summer of 1933, taking
Duncan
with him. Undeterred, O'Daniel reorganized the Doughboys and brought them to Chicago later in the year for a recording session with Vocalion. However, his days with the band were numbered as well; disputes with the Burris Mill Company led to his being fired in 1935. O'Daniel put together a new band called the Hillbilly Boys, and thanks to his radio exposure, he made a successful run for governor of Texas in 1938. Meanwhile, the Light Crust Doughboys' new lineup had solidified by 1937: fiddle players Kenneth Pitts and Clifford Gross (plus Cecil Brower on occasion), banjoist Marvin "Smokey" Montgomery (who would remain with the group right up to his death in 2001), lead guitarist Muryel Campbell, rhythm guitarist Dick Reinhart, pianist John "Knocky" Parker, and bassist Ramon DeArman. This lineup's recordings were among the biggest selling in their hometown, and were quite popular across the region thanks in part to their continued radio exposure, which now reached over 170 stations. Their success continued right up to World War II, at which point most of the members joined either the Army or the defense industry. The Doughboys' radio show was thus canceled in 1942; Burris Mill attempted to mount a new version of the program in 1946, featuring Jack Perry as the leader of the band (a post Smokey Montgomery took over in 1948). But despite a series of new recordings for King, interest had dissipated, and the radio show was canceled for good in 1950. While Montgomery kept the band going in some form, off and on, during the remainder of his life, the first large-scale revival of the Light Crust Doughboys took place during the '60s, featuring Montgomery (now on guitar as well as banjo), guitarist Billy Hudson, fiddler Johnny Strawn, bassist Artie Glenn, and steel guitarist Paul Blount. In 1995, the Light Crust Doughboys were named official musical ambassadors for Texas. During the '90s, when the band began recording again, the lineup featured Montgomery, guitarist Jerry Elliott, bassist Art Greenhaw, fiddlers John Walden and Jim Baker, and pianist Bill Simmons. Montgomery passed away on June 6, 2001, after a bout with leukemia. ~ Steve Huey, Rovi
full bio
Selected Discography
Similar Artists
Don't have a Pandora account? Sign up
Already have a Pandora account? Log In