Free personalized radio that
plays the music you love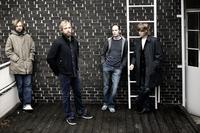 People who also like this
When Kashmir entered the Danish scene in 1993, it was clear to the Danish music industry and fans alike that new life was being injected into a moribund rock scene. Along with bands like
Dizzy Mizz Lizzy
and Inside the Whale, Kashmir were among the finalists in the DM i Rock (Danish Rock Championship) competition in the spring of 1993. Formed in 1990 in Copenhagen under the name Nirvana, the band started out as a trio. Various lineup changes and several discussions about the band name resulted in Mads Tunebjerg (bass), Asger Techau (drums), and Kasper Eistrup (vocal/guitar) adopting the Kashmir moniker. Kashmir finished second in the DM i Rock finals and were signed to the newly established label Start in Århus by Poul Martin Bonde, who also produced Kashmir's first album, Travelogue. The album was released in the spring of 1994 and was a musical mix of
Prong
,
Primus
,
Rage Against the Machine
, Nirvana, and
Sonic Youth
, along with Kashmir's own added flavor. Funk-metal and grunge became an obsession to Danish youngsters, who immediately counted Kashmir as one of their absolute favorites, particularly songs like "Jamie Fame Flame" and the ballad "Rose."
On their second album, Kashmir remained playful and filled with unusual ideas, and experimented with a mix of genres -- but Cruzential (released in 1996 and produced by Ron Saint-Germain) was also darker and more hard-hitting compared to the mainstream form of their first album. It was obvious that Cruzential wouldn't spin off many singles or hits. With this growing reputation, Kashmir became respected by fans and the music industry, and the members found themselves involved in different projects during the mid-'90s, co-writing songs and recording albums for other Danish artists. After nine years together in Kashmir, the trio members' inspiration turned toward bands like
Radiohead
, as they began to write lyrics with more depth and personal perspectives. The Good Life was released in 1999, produced by Joshua (aka Jon Schuman) and mixed by James Guthrie. In many ways, it was a turning point for Danish rock. Kashmir's sound was big, authentic, and almost heroic; the songs were melancholic, dynamic, and emotional; and the fact that the album had been mixed in the U.S. by Guthrie brought hope for fans and the Danish music business that Kashmir could become internationally successful. Kashmir had became the most popular Danish rock band, scoring six Danish Grammys in 2000. Meanwhile, Henrik Lindstrand (guitar, keys, vocal) had joined the band in 1999 as a live musician and later became the fourth member of Kashmir.
Four years after the release of the formidable The Good Life, the band's Zitilites album was released in the spring of 2003, produced by Kashmir at their own Petite Machine studio in Copenhagen and mixed by John Cornfield in England. It was clear that Kashmir had been missed and the band stayed on the road in Scandinavia and Europe until the end of 2004. From this point on it became easier for the band to write songs, and two and a half years after the Zitilites album Kashmir surprised everyone with a new album -- this time featuring the band's two biggest heroes,
David Bowie
and
Lou Reed
. Eistrup met
Bowie
during a stay in New York and was stunned when
Bowie
claimed to be a fan of Kashmir, having several of the group's albums.
Reed
joined the band for a spoken role in the song "Black Building." Dark and with
Pink Floyd
-style experimentation, "Black Building" was featured on the album along with tunes reminiscent of
Smashing Pumpkins
,
My Bloody Valentine
, or
the Cure
. In 2007 Kashmir began touring and writing songs for their sixth album. ~ Carsten Holm
full bio
Selected Discography
Similar Artists
Don't have a Pandora account? Sign up
Already have a Pandora account? Log In