We created Pandora to put the Music Genome Project directly in your hands
It's a new kind of radio –
stations that play only music you like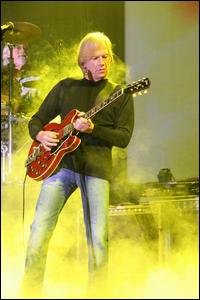 People who also like this
Justin Hayward (b. Swindon, October 14, 1946; full name David Justin Hayward) got his first guitar at age nine. In 1965, he joined pre-
Beatles
English rocker Marty Wilde as a member of his backing band, the Wild Cats. By the end of 1965, Hayward had four songs that he felt ready to record on his own, which led him to former skiffle king-turned-producer
Lonnie Donegan
. Released by Pye Records on the last day of 1965, Hayward's solo recording debut, "London Is Behind Me," failed to make an impact on the charts. The follow-up, "I Can't Face the World Without You," was released by Parlophone on August 26, 1966 with similar results. It was at this same time that Hayward answered
Eric Burdon
's ad for a lead guitarist. But
Burdon
had already filled the spot, and instead recommended him to the Moody Blues, who were in the market for a new guitarist/singer to replace the recently departed Denny Laine. After meeting with the band, Hayward joined the Moody Blues to complete their best-known lineup. For the first six months, the group continued with the R&B-based repertoire that they'd been known for prior to Hayward's arrival. Gradually, however, they began to work new songs into their stage act and their recording schedule, which took a big jump when the group was picked by Decca/London Records to participate in a stereo-demonstration record mixing rock and orchestral sounds. The resulting album,
Days of Future Passed
(1967), revived the band's fortunes, not least through the success of Hayward's now signature songs "Nights in White Satin" and "Tuesday Afternoon." This lush, romantic style would become the basis for the band's sound over the next seven years and while each member contributed songs and lead vocals, Hayward essentially became established as the group's primary singer and songwriter, penning classics like "Lovely to See You," "The Story in Your Eyes," and "New Horizons." After the band went on hiatus in 1974, Hayward and bassist John Lodge recorded the duo album
Blue Jays
, spawning the 1975 hit "Blue Guitar," which featured a backing track by the band
10cc
. Hayward's career as a solo artist began in 1977 with the release of Songwriter, which displayed a somewhat leaner and more lively, acoustically textured sound than his work with
the Moodies
. He struck gold globally with the Top Ten hit "Forever Autumn" in 1978 as part of
Jeff Wayne
's War of the Worlds album, and then released his second solo album,
Night Flight
, in 1980. During the next several years, Hayward devoted much of his attention to the revived
Moody Blues
, who had a full touring and recording schedule in front of them. A third solo outing, Moving Mountains, arrived in 1985 and was strongly reminiscent of his early-'70s style. In the late '80s,
the Moodies
scored a pair of hits with the Hayward-penned "Your Wildest Dreams" and "I Know You're Out There Somewhere," marking the band's last major chart successes. Hayward continued to record throughout the '90s with solo releases like the orchestral
Classic Blue
(1989), and later The View from the Hill (1996) and Live in San Juan Capistrano (1998).
The Moody Blues
remain a popular concert draw and Hayward, along with John Lodge and drummer Graeme Edge, comprise the remaining original portion of the band's lineup. In 2005, Hayward was awarded ASCAP's Golden Note Award for British songwriters, and in 2013 he received his second Ivor Novello award from the Performing Rights Agency in the U.K. That same year, he released Spirits of the Western Sky, his first solo album since 1996. A year later, he followed it up with the live acoustic album
Spirits…Live
. ~ Timothy Monger & Bruce Eder, Rovi
full bio
Selected Discography
Similar Artists