We created Pandora to put the Music Genome Project directly in your hands
It's a new kind of radio –
stations that play only music you like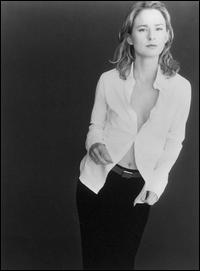 People who also like this
Onetime member of Mari Wilson's backing troupe the Wilsations, English songbird Julia Fordham finally released her debut in 1988. Unimaginatively titled,
Julia Fordham
showed off Fordham's smoky jazz bar low, dulcet voice and contained four singles: "The Comfort of Strangers," "Woman of the 80's," her first hit "Happy Ever After," and "Where Does the Time Go" which missed the U.K. TYp 40 by the most slender margin, peaking at 41.
The following year,
Porcelain
consolidated her presence as a leading album artist. Produced by Hugh Padgham, Grant Mitchell, and Fordham herself, standout tracks include "Lock and Key"; tonally warm, her vocal delivery was likened to
Joni Mitchell
's with whom she'd be further linked in years to come).
Porcelain
guested
Manu Katche
and Pino Palladino among its high caliber lineup. More tales of hopelessness in the art of relationships were outlined in 1991's
Swept
, which included the excellent "I Thought It Was You," like songstress
Judie Tzuke
, however, Fordham found her singles too classy for mainstream radio play and so it stalled in the mid sixties of the chart. A remix of the song came closer, reaching number 45 in spring 1992.
Fortunately, Fordham did enjoy some singles success courtesy of "(Love Moves In) Mysterious Ways." Taken from the film The Butcher's Wife, it climbed to number 19, making it her biggest U.K. hit to date.
Swept
was quickly reissued, this time, with the song part of the process. Relocating to the States in the mid-'90s, Fordham began work on her fourth album with Larry Klein, then husband and producer of
Joni Mitchell
. He'd also been busy working with
David Baerwald
and
the Innocence Mission
, but thanks in part to him, Fordham's
Falling Forward
became another slice of technical accomplishment. Despite efforts to present her in more contemporary pop format ("Can't Help Myself" received a modest remix) the reception was mixed. In 1997, East West portrayed Fordham on the cover in the most American of things --, a yellow cab. For some reason it was granted release only in the States, a fate also bestowed on other British acts (
Duran Duran
and
Wang Chung
, to name two). Canadian guitarist/ producer Michael Brook, renowned for his film work and experimental music affiliations, handled production. A solid greatest-hits compilation released in 1999 and her last contractual effort for Virgin, the aptly titled Collection included updated versions of "Happy Ever After" and "Where Does the Time Go" as well as "Killing Me Slowly" from East West. She teamed up with Larry Klein once again during the new millennium, and a new deal with Division One/Atlantic prevailed in time for the 2002 release of Julia Fordham's sixth studio album, Concrete Love. The Vanguard label was her new home for 2004's
That's Life
and the live CD/DVD combo that followed, That's Live. ~ Kelvin Hayes, Rovi
full bio
Selected Discography
Similar Artists