We created Pandora to put the Music Genome Project directly in your hands
It's a new kind of radio –
stations that play only music you like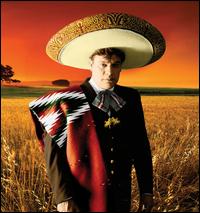 People who also like this
Juan Gabriel is one of Mexico's most successful vocalists. A six-time Grammy nominee, Gabriel has sold 30 million copies of his albums and has performed sold-out concerts throughout the world. In addition to recording numerous hits on his own, Gabriel has produced albums for
Rocio Durcal
,
Lucha Villa
,
Lola Beltran
, and
Paul Anka
. His songs have been covered by a lengthy list of Latin artists, including
Ana Gabriel
(no relation),
Rocio Durcal
,
Isabel Pantoja
,
Raúl Di Blasio
,
Marc Anthony
, and Son del Son, the latter group having released two albums comprised entirely of Gabriel material, Costumbres and Son de Juan. The recipient of the ASCAP Songwriter of the Year Award in 1995, Gabriel was inducted into the Billboard Latin Music Hall of Fame the following year. During an interview shortly after his induction, Gabriel said, "I compose songs with a lot of simplicity because my school has been the streets and people have been my books."
The youngest of ten children, Gabriel (born Alberto Aguilera Valadez) was raised in the border town of Juarez by his mother, who worked as a housekeeper. (He now owns the mansion in which she worked.) Singing from earliest memory, Gabriel was already writing his own songs by the age of 13. Changing his name to Adam Luna, Gabriel began singing in the nightclubs of Juarez's downtown strip in his teens. One night spot, El Noa Noa, was later immortalized in one of his most popular tunes. Gabriel later moved to Mexico City, changed his name again to Juan Gabriel, and in 1971 recorded his first hit, "No Tengo Dinero" (I Have No Money). Over the next 14 years, he rose to international recognition, appearing in such films as Nobleza Ranchera, Del Otro Lado del Puerte, and Es Mi Vida. By 1985, he had sold an estimated 20 million records.
Just as his career reached its peak, Gabriel had a major conflict with BMG over control of his copyrights. Over the next eight years, he refused to record any new material. He finally reached a compromise with BMG in 1994, and quickly made up for lost time. In 1995, three of his songs reached the Top 40 of Billboard's Latin radio charts. While his own recording of "El Palo" (The Stick) reached number one, cover versions of his songs -- "Como la Luna" (Like the Moon) by Banda Maguey and "No Tengo Dinero" by
Ana Gabriel
-- also performed well. In 1999, Gabriel's tour of United States was sponsored by the Sears Corporation. During the next few years, he averaged a new album every year, including Querida,
Por los Siglos
, and Inocente de Ti. ~ Craig Harris, Rovi
full bio
Selected Discography
Similar Artists